Creating inclusive buildings and design
Ministers set out a new construction industry action plan to make buildings and public spaces more inclusive.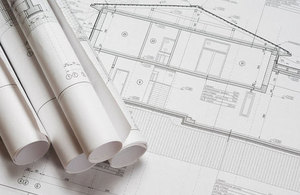 Minister for Communities Stephen Williams and Minister for Disabled People Mark Harper today set out a new construction industry action plan to make buildings and public spaces more inclusive.
This work builds on the success of the Olympic and Paralympic Park which set world class standards for inclusion. By designing out barriers in the buildings and surrounding landscape the park ensured equal access and enjoyment for everyone and proved what is achievable when the construction industry is at the top of its game.
Meeting senior professionals from the construction and design industry they committed to a range of activities including:
reviewing construction industry standards on vocational training
working together to develop training for use in continuing professional development
championing inclusive design through leadership and by promoting wider industry awareness
supporting continual improvement across industry through collaboration on research and innovation
The action plan is a rolling programme of measures to make buildings, streets and public space more inclusive and accessible to all.
Stephen Williams said:
In October last year we issued a challenge to key players in the construction industry to create buildings, places and spaces that work better for everyone by making inclusion a key part of their work.

The action plan we have seen today is a great start in making a more inclusive built environment a reality.

The British construction industry is full of highly skilled professionals who rightly have a world class reputation – we want to keep them leading the way in building the most accessible and inclusive country in the world.
Minister of State for Disabled People Mark Harper said:
The London 2012 Paralympics captured the attention of the country and demonstrated that disabled people should have the same access to buildings and sporting stadiums as everyone else - which we saw with the award-winning Olympic Stadium where so many memories were made.

By putting inclusive design at the heart of what we do today, we can create an entirely inclusive society tomorrow for the 12.2 million disabled people in the UK to participate in every aspect of modern life.
John Mathers, Design Council's CEO hosting the meeting said:
We are delighted to be hosting the Inclusive Design Professional Roundtable. Our goal is to ensure that creating inclusive environments for everyone becomes the standard approach to planning, design, construction and management practice.

The Inclusive Design Hub launched last year draws together guidance and tools to support this. Building upon this, in response to industry need, we are proposing to develop contininous professional development training for all built environment professionals which will benefit society as a whole.
Further information
Ministers jointly chaired a meeting of major construction professional bodies on 24 February 2015 to review their plans to collaborate in promoting and integrating inclusive principles into day to day working practice.
The built environment can contribute to a more equal, inclusive and cohesive society if places, facilities and neighbourhoods are designed to be accessible and inclusive for all.
The construction industry action plan brings together 14 key organisations and a wider network of construction industry partners through the Construction Industry Council who have committed to raise profile and champion inclusive design.
The action plan, which includes championing inclusive design through leadership, collaborating on research and innovation and rewarding excellence, is available on the Design Council Cabe website.
For further comments from members of the group see:
Additional quotes from partner organisations (PDF, 16.5 KB, 3 pages)
Office address and general enquiries
2 Marsham Street
London
SW1P 4DF
If your enquiry is related to COVID-19 please check our guidance page first before you contact us - https://www.gov.uk/guidance/coronavirus-covid-19-guidance-for-local-government.

If you still need to contact us please use the contact form above to get in touch, because of coronavirus (COVID-19). If you send it by post it will not receive a reply within normal timescale.
Published 25 February 2015