News story
Countdown to BPS 2016 application deadline begins
BPS 2016 deadline fast approaching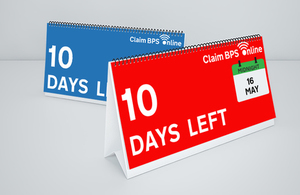 Applications for BPS 2016 continue to come in with over 50% of farmers having successfully submitted their claim. With the 16 May deadline only a matter of days away, all farmers are encouraged to do the same.
The online claim system is working well, with tens of thousands of farmers using it to submit their applications. To date, just under 46,000 online and paper applications have been submitted with just over 14,000 in progress.
All applications should be completed and submitted by midnight 16 May.
The RPA is urging farmers who may have an outstanding query or who are waiting for the balance of their 2015 payment, to still apply using the position on the ground at 16 May 2016.
Applications should be completed and submitted by midnight 16 May, even if farmers have an outstanding query or are waiting for the balance of their 2015 payment.
As in previous years, any farmers with concerns about their BPS 2015 payment or claim details held by RPA should write or email. The RPA will investigate any payment differences and make adjustments over the summer, through routine reconciliation.
Where there is flexibility under the scheme rules, the agency will use it, so that customers are not penalised unnecessarily for claiming on what they believe to be correct for BPS 2016.
There is a wide range of support available to help for farmers apply by the deadline. This includes:
How to apply online guidance
Step by step onscreen help
Applicants can call the Rural Services Helpline 03000 200 301 for help and advice including:

24/7 automated service for customers wanting to apply online rather than paper
A dedicated support line for agents
Full details of all the support available for BPS 2016 applications can be found at GOV.UK/rpa/bps2016.
Key dates for BPS 2016
9 May – last day to ask RPA for a paper form to make sure it's received by 12 May, giving applicants time to complete and submit it by 16 May.
16 May (midnight) – deadline to submit a claim before penalties apply.
Farmers can make certain changes to their claim submitted before 16 May, right up to 31 May without incurring any penalties. The types of changes that can be made are detailed in the scheme rules.
Anyone who hasn't submitted a claim by midnight 16 May can still do so until midnight 10 June. Penalties will apply though and they will lose 1% of the value of their claim for every working day after the 16 May deadline their application arrives at RPA. For those looking to apply for new entitlements from the national reserve, the penalty rate will be 3%.
Published 6 May 2016