News story
Communities say 'yes' to locally led housebuilding
Two more communities vote in favour of their neighbourhood plan.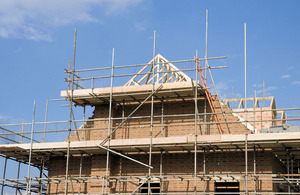 Plans by local people to boost housebuilding in their areas were approved today (3 May 2013) when communities in 2 towns voted 'yes' for their neighbourhood plan.
The votes mark 2 firsts - the first plan to set out the precise sites people want to see homes built on in their area and the first plan being voted on in an urban area.
In Thame, Oxfordshire, residents voted for 775 new homes, linked into the town via new pedestrian, cycle and public transport routes. The plan ensures that Thame remains a market town and acts as a centre for the surrounding area with policies for new employment land, that improve existing town centre shopping and to encourage diverse uses of upper floors above shops in the town centre. The plan was passed by 76% of voters with a 40% turn out.
In St James near the centre of Exeter, where the neighbourhood plan was developed by a newly formed neighbourhood forum, people voted on a plan that will bring improvements to the streetscape and landscape of St James and be a springboard for improvements to the local environment, with an emphasis on sustainable development and support for the local economy. The plan was approved by nearly 92% of voters with nearly 21% turnout.
Planning Minister Nick Boles said:
This is a fantastic result for people in Thame and Exeter. These plans make bringing about the right type of housing for their communities a key priority and show how engaged people will be if given the chance to be in the driving seat for delivering new homes.

Three out of 3 plans have now been approved with neighbourhood planning powers proving to be a hit with people and a real draw for helping boost voter turnout.

Neighbourhood planning is an incredibly important new right that provides a real opportunity to deliver the homes, shops and facilities people want. I would urge others to join the hundreds of communities around the country that are already looking to reap the many benefits from having a neighbourhood plan.
Community Rights Minister Don Foster said:
Just weeks after the historic first neighbourhood plan in Cumbria, residents in Exeter and Thame have now also given their plans overwhelming support.

We are giving power back to people locally and hundreds of communities across the country are now having a say in the future of the places where they live and work.

And we're providing funding to give practical support to help make their neighbourhood plans a reality.
Neighbourhood planning is one of the new community rights introduced by government to give people more say over their area and puts communities in charge of setting out the homes, shops and amenities they want.
Jo Hawkins, Chairman of Exeter St James Forum said:
This is a great result! It's a strong and welcome endorsement for our neighbourhood plan and a strong signal that the residents of St James are pleased with the work of the Forum. We've already had offers from people wanting to become involved in what we do next.
Nigel Champken-Woods, Thame Mayor said:
This is an excellent result and the networks and relationships formed throughout this process will go from strength to strength and the community spirit, which is a significant part of what Thame is, will continue in abundance as the plan is implemented.
Neighbourhood planning replaces top down regional planning and ends the planning resentment that stopped the homes and businesses people want being built by putting communities centre stage in local planning.
More than 500 communities are now making use of the new neighbourhood planning powers that that have real statutory weight in the planning system.
The Upper Eden Neighbourhood Plan was the first to come into force after its successful referendum in March. Four planning applications for new development submitted within weeks of the neighbourhood plan coming into force are currently being considered.
Further information
The final Thame Neighbourhood Plan can be found on the South Oxfordshire District Council website
Further details of the Exeter St James plan can be found on the Exeter St James Forum website
You can also listen to Nick Boles talking about the Thame and Exeter St James neighbourhood plans on our Audioboo channel.
New powers also ensure communities benefit directly from generous cash incentives from development. Communities with a neighbourhood development plan and where the Community Infrastructure Levy is charged will receive 25% of revenues from the Levy arising from development they choose to accept.
A new £9.5 million 2-year programme will help support people in hundreds of areas across the country in creating neighbourhood plans. Groups of residents seeking to create a neighbourhood plan will be able to bid for up to £7,000 each to contribute to the costs of preparing their proposal.
Published 3 May 2013