News story
CMA to look in detail at proposed undertakings for media databases merger
GTCR has offered undertakings to the CMA to address competition concerns in relation to its acquisition of Gorkana Group.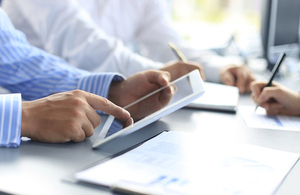 Last month the Competition and Markets Authority (CMA) announced its concerns that the acquisition could lessen competition in relation to the supply of media contact databases. These databases provide lists and details for journalists, writers, publications and other outlets to help private and public organisations communicate their work effectively.
The CMA said that GTCR Canyon UK Investments Ltd (GTCR) could avoid an in-depth phase 2 merger investigation if it offered an acceptable solution to remedy the CMA's competition concerns in a clear-cut, effective and timely manner. As a result GTCR has offered an undertaking comprising a structural divestment to a suitable upfront buyer able to remedy the competition concerns identified by the CMA.
In this case, the proposed undertaking includes businesses that at present are part of international groups. The CMA considers that seeking an upfront buyer is appropriate in this case to ensure the ongoing commercial viability of the divested businesses. The CMA has decided that there are reasonable grounds for believing that the undertakings offered by GTCR, or a modified version of them, might be accepted in lieu of a reference to a more detailed phase 2 merger investigation.
The CMA now has until 11 June 2015 to consider whether to accept the undertakings, or a modified version. It can extend this deadline if there are special reasons for doing so.
As part of this consideration process, the CMA will undertake a public consultation on whether the proposed undertakings, including the proposed purchaser for the divestment, are sufficient to address the competition concerns. If the CMA does not accept the undertakings, it will refer the acquisition for a phase 2 merger investigation.
Please see the case page for more information.
Published 14 April 2015