Press release
Media contact databases merger could lessen competition
The CMA has announced that GTCR Canyon Investments' completed acquisition of Gorkana Group will be referred for an in-depth phase 2 investigation unless acceptable undertakings are offered.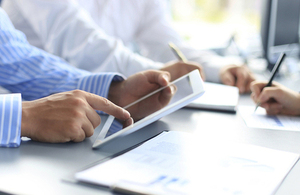 Following its initial phase 1 investigation, the Competition and Markets Authority (CMA) has found that the transaction gives rise to a realistic prospect of a substantial lessening of competition in the production and supply of media contact databases.
Media contact databases provide lists and details for journalists, writers, publications and other outlets to help private and public organisations communicate their work effectively.
A wide range of companies, public and voluntary sector organisations, as well as communications and public affairs consultancies require media contact databases individually or as part of a bundle with other integrated media services, such as media monitoring, analysis and press release distribution.
The evidence gathered by the CMA suggests that, as a result of this merger, GTCR, which already owns 2 other companies supplying similar media contact databases and monitoring and analysis services (Vocus and Cision), will not face sufficient competitive constraints either through existing competitors or emerging online technology and this could result in higher prices or reduced quality for UK customers purchasing media contact databases.
Given its concerns, the CMA considers it appropriate to undertake a further investigation into this matter unless GTCR offers acceptable undertakings to address the CMA's competition concerns in a clear-cut manner.
Andrea Coscelli, CMA Executive Director and decision maker in this case said:
Gorkana's media contact database and those already controlled by GTCR, Cision and Vocus, are each other's closest competitors in the supply of these products and services in the UK.

The merger parties' competitors are smaller in size, scale and scope and during our phase 1 assessment we could not dismiss all our competition concerns. This triggers our statutory duty to investigate this merger in greater detail at phase 2 by a separate panel of CMA independent members unless GTCR offers undertakings that resolve these concerns. In particular, we assessed whether new entrants, expansion by existing competitors or new technologies would bring more dynamism into these markets and deter GTCR from raising prices or lowering quality as a result of this merger.
Notes for editors
The CMA is the UK's primary competition and consumer authority. It is an independent non-ministerial government department with responsibility for carrying out investigations into mergers, markets and the regulated industries and enforcing competition and consumer law. From 1 April 2014 it took over the functions of the Competition Commission and the competition and certain consumer functions of the Office of Fair Trading, as amended by the Enterprise and Regulatory Reform Act 2013.
The supply of media contact databases consists of providing a list of media influencers to private and public organisations to facilitate the search for and contact of those most relevant in an economic sector or topic. The content, technical features, interconnectivity and search functionalities vary by each supplier and this differentiation may also be reflected in their prices. Typically, they may include a list of journalists, bloggers, public personalities and other media influencers, their biographies, links to their recent topics and articles or blogs. Customers download or access online the media contact database and are able to search under different criteria.
The Reference Test – under the Enterprise Act 2002 (the Act) the CMA has a duty to make a reference to phase 2 if the CMA believes that it is or may be the case that a relevant merger situation has been created, or arrangements are in progress or in contemplation which, if carried into effect, will result in the creation of a relevant merger situation; and the creation of that situation has resulted, or may be expected to result, in a substantial lessening of competition within any market or markets in the United Kingdom for goods or services.
Under the Act a relevant merger situation is created if 2 or more enterprises have ceased to be distinct enterprises; and the value of the turnover in the United Kingdom of the enterprise being taken over exceeds £70 million ('the turnover test') or as a result of the transaction, in relation to the supply of goods or services of any description, a 25% share of supply in the United Kingdom (or a substantial part thereof) is created or enhanced ('the share of supply test').
The CMA's duty to refer the merger for a phase 2 investigation under section 22(1) of the Act is not exercised pursuant to section 22(3)(b) whilst the CMA is considering whether to accept undertakings (if offered) under section 73 of the Act in lieu of a reference. Section 73A(1) of the Act gives GTCR the opportunity to offer the CMA suitable commitments until 7 April 2015. If offered, the CMA would have to assess and decide whether the offered commitments solve the competition concerns. If no undertaking is offered or accepted, then the CMA will refer the merger pursuant to sections 22(1) and 34ZA(2) of the Act.
All the CMA's functions in phase 2 merger inquiries are performed by inquiry groups chosen from the CMA's panel members. The appointed inquiry group are the decision makers on phase 2 inquiries.
The CMA's panel members come from a variety of backgrounds, including economics, law, accountancy and/or business. The membership of an inquiry group usually reflects a mix of expertise and experience (including industry experience).
The full text of this decision will be placed on the case page as soon as is reasonably practicable.
Enquiries should be directed to Siobhan Allen (siobhan.allen@cma.gsi.gov.uk, 020 3738 6460).
For information on the CMA see our homepage, or follow us on Twitter @CMAgovuk, Flickr and LinkedIn. Sign up to our email alerts to receive updates on merger cases.
Published 27 March 2015