Press release
CMA tackles undisclosed advertising online
The Competition and Markets Authority (CMA) has secured undertakings to tackle undisclosed advertising in online articles and blogs.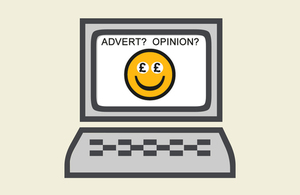 The undertakings were secured following a CMA investigation under its consumer enforcement powers. The CMA's investigation found two marketing companies, Starcom Mediavest and TAN Media, arranged for endorsements in online articles and blogs on behalf of MYJAR, a short-term loan provider, without making it clear that they were advertising. This activity was carried out as part of their search engine optimisation (SEO) activities.
MYJAR, Starcom Mediavest and TAN Media have all provided undertakings to the CMA that they will ensure all advertising and other marketing in articles and blogs is clearly labelled or identified so that it is distinguishable from the opinion of a journalist or blogger. The 3 businesses all engaged constructively with the CMA during its investigation.
The CMA has also written to 13 marketing companies, 20 businesses that use the services of marketing companies and 33 publishers of online articles and blogs, to warn them that helping to arrange or publish advertising or other marketing that is not clearly distinguishable from the opinion of a journalist or blogger may result in them breaking the law. The CMA has published open letters on its website so that all businesses, marketing companies and publishers are able to look at the steps they need to take to comply with consumer protection law.
This is the third announcement that the CMA has made in recent weeks aimed at maintaining consumers' trust in what they read online in connection with shopping for goods and services. After a separate investigation, the CMA announced in February that 5 online review sites have agreed to improve their practices in response to concerns raised by the CMA. The CMA also announced in March, following another separate investigation, that it had taken enforcement action against a marketing firm that, in 2014 and 2015, had written over 800 fake positive reviews for 86 small businesses that were published across 26 different websites which contain customer reviews.
Nisha Arora, CMA Senior Director, Consumer, said:
Opinions in blogs and other online articles can influence people's shopping decisions. Failing to identify advertising and other marketing, so that it appears to be the opinion of a journalist or blogger, is unlawful and unacceptable. The businesses being promoted, the marketing companies arranging promotions and publishers of online articles all need to play their role and maintain trust online by ensuring that advertising and other marketing is clearly distinguishable from editorial content and that this is not hidden from the consumer. We understand that these are important channels for businesses seeking to promote products and services – but they need to do so in a way that complies with consumer protection law.

The CMA will continue to enforce the law so that consumers can have confidence in the reviews or opinions they read online.
None of the firms named in the release were involved in writing or commissioning fake reviews.
Notes for editors
The CMA has published 2 open letters on how to comply with consumer law covering online reviews and endorsements – one is aimed at businesses and marketing companies and the other is aimed at publishers of online endorsements. The CMA has also produced 3 '60-second summaries' for businesses on how to comply with consumer protection law on online reviews and endorsements.
Last year the CMA carried out a call for information on online reviews and endorsements, and followed this up by launching 3 cases aimed at maintaining consumer trust in these sectors.
The CMA is the UK's primary competition and consumer authority. It is an independent non-ministerial government department with responsibility for carrying out investigations into mergers, markets and the regulated industries and enforcing competition and consumer law. For more information on the CMA see our homepage or follow us on Twitter @CMAgovuk, Flickr and LinkedIn.
The Consumer Protection from Unfair Trading Regulations 2008 (CPRs) contain a general prohibition on unfair commercial practices, in particular misleading and aggressive practices. They also contain 31 banned practices which are prohibited in all circumstances. It is a banned practice to use editorial content in the media to promote a product where a trader has paid for the promotion without making that clear in the content or by images or sounds clearly identifiable by the consumer.
The CPRs are enforceable through the civil and criminal courts. Only a court can conclude whether a particular practice infringes the law.
On 19 August 2015, the Committees of Advertising Practice produced clear new guidance for vloggers to help them better understand how and when the advertising rules apply to their vlogs so that they are upfront and deal fairly with their followers.
SEO usually forms part of a business's online marketing strategy and involves increasing a website's visibility in search engines so that it appears higher in search results.
Enquiries should be directed to Siobhan Allen (siobhan.allen@cma.gsi.gov.uk, 020 3738 6460) or Simon Belgard (simon.belgard@cma.gsi.gov.uk, 020 3738 6472).
Published 4 April 2016