News story
CMA receives two appeal applications over electricity distribution network price controls
Northern Powergrid (Northeast) Limited and Northern Powergrid (Yorkshire) plc and British Gas Trading Limited (BGT) have sought permission from the CMA to appeal against Ofgem's RIIO-ED1 price controls for electricity distribution companies.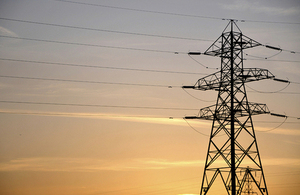 The details of these price controls were announced in November 2014.
The applications for permission to appeal are made under section 11C of the Electricity Act 1989 and relate to price controls made for the 8-year period from 1 April 2015 to 31 March 2023. BGT is not an electricity distribution network operator; it is seeking to appeal as a party materially affected by the decision.
The Competition and Markets Authority (CMA) must now decide whether to grant permission, and if it does so, it then has 6 months to determine the appeals.
Read our guidance for further details on the process for such appeals. More information will be published on the CMA website in due course.
The appeals are separate from the CMA's ongoing investigation into the retail energy market.
All information is available on the Northern Powergrid and British Gas Trading case pages.
Published 4 March 2015