Press release
CMA publishes payday lending final order
The CMA has published its final order on the payday lending market to increase price competition between payday lenders and help borrowers.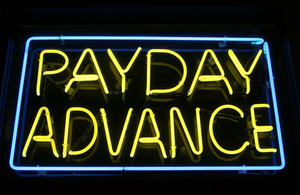 The Competition and Markets Authority's (CMA) final order requires that online payday lenders publish details of their products on at least one price comparison website (PCW) which is authorised by the Financial Conduct Authority (FCA) under its new rules.
In its final report, the CMA recommended that the FCA implement additional standards for payday loan PCWs, requiring them to provide customers with clear, objective and comparable information on all potential loan costs, in particular the total amount payable, and to allow customers to compare different loans by searching easily on the most relevant features such as loan amount and duration.
In addition, the order requires online and high street payday lenders to provide existing customers with a summary of their cost of borrowing. The summary will tell borrowers what the total cost of their most recent loan was, as well as the cumulative cost of their borrowing with that lender over the previous 12 months and how late repayment affected their cost of borrowing.
The CMA welcomes the steps that the FCA is taking to move forward our other recommendations in the final report, to:
improve the disclosure of late fees and other additional charges
help customers to shop around without unduly affecting their ability to access credit
improve real-time data sharing between lenders and credit reference agencies
ensure that lead generators – websites which sell potential borrowers' details to lenders and through which 40% of first-time online borrowers access their loans – explain to customers much more clearly how they operate
The CMA expects that the order and the FCA's ongoing work in the sector will increase competition within the market to the benefit of borrowers.
Notes for editors
The CMA is the UK's primary competition and consumer authority. It is an independent non-ministerial government department with responsibility for carrying out investigations into mergers, markets and the regulated industries and enforcing competition and consumer law. From 1 April 2014 it took over the functions of the Competition Commission (CC) and the competition and certain consumer functions of the Office of Fair Trading, under the Enterprise and Regulatory Reform Act 2013.
The CMA took over responsibility for this case from the CC in April 2014.
Enquiries should be directed to Siobhan Allen (siobhan.allen@cma.gsi.gov.uk, 020 3738 6460).
For more information on the CMA see our homepage or follow us on Twitter @CMAgovuk, Flickr and LinkedIn. Sign up to our email alerts to receive updates on markets cases.
Published 13 August 2015