New competition authority to make markets work well for consumers, business and the economy
The Competition and Markets Authority (CMA) starts work today as the UK's primary competition and consumer agency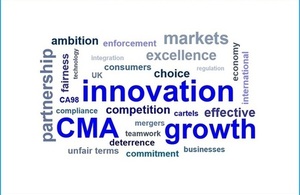 The Competition and Markets Authority (CMA) starts work today as the UK's primary competition and consumer agency, with a vital role to play in helping stimulate economic growth and innovation and ensuring consumers get a good deal.
Bringing together the Competition Commission (CC) with the competition and certain consumer functions of the Office of Fair Trading (OFT), the CMA has a range of new responsibilities and powers to ensure it meets its mission of making markets work well for consumers, businesses and the economy. These include tighter timetables for investigations, a stronger role in ensuring competition in regulated sectors like financial services and energy, and a reformed legal framework for prosecuting individuals involved in criminal cartel activity.
In its first Annual Plan, the CMA sets out its priorities and work programme. These focus on merger control, market studies and investigations, and enforcement of competition and consumer law. The CMA has already taken on a challenging programme of markets work in key strategic areas such as banking, energy, payday lending and higher education. It will now take on from the OFT and CC more than a dozen live competition enforcement and consumer cases, over 30 merger cases and three on-going Phase 2 market investigations.
The CMA's mission is set out under five strategic goals:
Deliver effective enforcement
A first-class enforcement regime is central to the CMA's purpose and function. Targeted and effective enforcement deters anticompetitive behaviour and builds a platform for greater compliance and understanding of the law.
The CMA will use new resources granted by the Treasury to take tough action against cartels and other anti-competitive abuses that harm consumers, businesses and economic growth. The new legislation grants the CMA stronger enforcement powers, including a reformed legal framework to step up the search for and prosecution of cartels, thereby strengthening the sanctions for anyone involved in illegal price-fixing, market-sharing or bid-rigging.
The CMA also wants to help businesses stay on the right side of the law, and so is establishing with immediate effect a dedicated compliance team to provide guidance and support.
Extend competition frontiers
A key focus will be on examining the role of competition in new and rapidly changing markets, or areas where competition and markets have not previously been used to their full potential. As part of this the CMA has today published its baseline annual report on the 'concurrency' arrangements which empower both the CMA and individual regulators to apply competition law in the regulated sectors, arrangements which are being enhanced from today.
The CMA has also today launched a research project that will use 'big data' techniques to identify sectors of the economy where online commerce is developing more slowly than might be expected, so it can investigate whether this is because incumbents have acted anti-competitively to block entry or innovation by online competitors or innovators. Entrepreneurs and start-ups who consider they have suffered anti-competitive behaviour are invited to share their experiences and evidence with the CMA.
Refocus consumer protection
The CMA will place the interests of consumers at its heart and help ensure the newly redrawn consumer protection landscape works effectively in their interests. The CMA will work closely with its consumer protection partners, such as local authority Trading Standards Services and the Citizens Advice Services, together with the sector regulators.
As part of this, the CMA has initiated a project to understand better how over-indebtedness affects consumers' decisions and choices in the goods and services that they purchase, and whether the various UK consumer protection bodies should take additional action in this concerning area of consumer detriment. Over-indebtedness has been a prominent feature in several markets recently scrutinised by the OFT or CC, including payday lending, personal current accounts, and higher education, and is also affecting the consumption of basic utilities such as energy, with a significant proportion of households suffering fuel poverty.
Achieve professional excellence
The CMA intends to undertake every case, study and project it handles efficiently, transparently and fairly, whilst ensuring that all legal, economic and financial analysis is conducted to the highest international standards. The launch of a CMA Academy, providing top quality professional training for all staff members, will be an important step towards this.
Develop integrated performance
The CMA aims to establish itself as a trusted competition adviser across government, so that policy frameworks are conducive to competition, and public purchasing benefits fully from rivalry between bidders. It will also work closely with business, consumer, regulatory, international and other organisations to achieve its goals.
As a key part of this, the CMA will establish a network of consumer experts and representatives who can help it understand closely consumers' real life experiences in markets, so it can spot issues and trends early and try to head off problems before they become entrenched.
Furthermore, as a body for the whole of the UK, the CMA is establishing a new presence in Wales and Northern Ireland, building on the OFT's existing office in Scotland. This will help it remain closely connected to stakeholders in the devolved nations, and to pay full attention to differences in market conditions across the UK.
In a speech at the European Consumer Summit in Brussels, David Currie, Chairman of the CMA, said:
The establishment of the CMA represents a significant evolution and strengthening of the UK's already well respected competition regime. The single most important measure of how the CMA does its job will be the results that it achieves for consumers, and that will remain the key focus for us in everything that we do.
Alex Chisholm, CMA Chief Executive, said:
We want to help achieve a really dynamic economy in which firms are competing hard to satisfy customers with innovative and value-for-money products and services. We will use our powers, resources and ingenuity to promote competition, empower consumers and strike down illegal behaviour.
The new CMA strategy, structure and legal framework will enable our highly professional staff to make well-selected and impactful interventions for the benefit of consumers and citizens across the UK.
Business Secretary Vince Cable said:
Today is a significant day for consumers as the Competition and Markets Authority begins work. It is a very real demonstration of the major reforms this Government has delivered to strengthen and streamline the competition regime, which has consumers at its heart, and which will support economic growth. I look forward to it making an impact.
Notes for editors
The CMA was established by the Enterprise and Regulatory Reform Act 2013.
The CMA's Strategy, Annual Plan, Prioritisation Principles and Guidance, which set out how the CMA will operate, together with the Annual Concurrency Report 2014, can be read on the CMA website: * Strategy * Annual Plan * Prioritisation Principles * 'Baseline' Concurrency Report 2014
Media enquiries: * Kasia Reardon 020 3738 6901 * Rory Taylor 020 3738 6798 * Siobhan Allen 020 3738 6460 * Michael Rosen 020 3738 6133
Published 1 April 2014
Last updated 1 April 2014
+ show all updates
Added links to published documents

First published.