Press release
CMA provisionally clears Poundland/99p merger
The CMA has provisionally cleared the anticipated acquisition of 99p Stores Limited (99p) by Poundland Group plc (Poundland).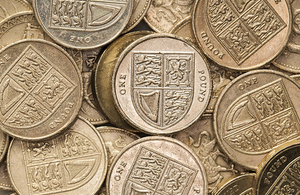 The anticipated acquisition would create a combined network of around 800 UK stores.
The stores of both retailers supply general merchandise ranging from groceries and other fast moving consumer goods, to stationery, homeware, gardening and seasonal merchandise. They are close competitors, which are distinguishable from other retailers as they sell nearly all products at a single price point.
The Competition and Markets Authority (CMA) referred the anticipated acquisition for an in-depth phase 2 investigation in April following an initial investigation which found a realistic prospect that the merger would result in a substantial lessening of competition in certain areas through a possible reduction in quality, fewer promotions or closure of stores.
The inquiry group of independent CMA panel members examining the merger has sought the views of Poundland and 99p and other high street retailers, commissioned an independent face-to-face survey of over 5,000 customers of the 2 merging companies, and examined their internal documents and other commercial data.
Today, the CMA has provisionally concluded that the merger may not be expected to result in a substantial lessening of competition. Consequently, customers would not face a reduction in choice, value or lower-quality service as a result of the merger.
The CMA found that, along with Poundworld, the companies are each other's closest competitors but after the merger they will still face competition from other value retailers such as B&M, Home Bargains, Wilko and Bargain Buys, along with Tesco and to an extent Asda.
The inquiry group's assessment found that Poundland would not have an incentive to reduce the quality of its offering, either at the local or at the national level. Currently each of Poundland and 99p sets the same retail offer at each of its stores across the country. The group does not believe that Poundland would have a greater incentive to vary its retail offer locally as a result of the merger as there will only be a small overall increase in the proportion of areas in which Poundland faces no competitors. At a national level Poundland competes with a number of retailers across the local areas in which it operates and only a third of Poundland's stores face competition from 99p. In addition, many value retailers have ambitious expansion plans.
Philip Marsden, Chair of the inquiry group, said:
There has been a significant rise in prominence of value retailers for UK shoppers. Our evidence indicates that customers are primarily attracted to Poundland and 99p because of their affordability and see them as good alternatives to each other. Nevertheless some customers can and do switch to other types of discount retail chains.

We conducted our own customer survey and examined a large amount of data to understand whether, after the merger, customers would have enough alternatives both overall and in the local areas where there is currently a Poundland store and a 99p store.

Both across its business and in individual areas, Poundland would continue to face competition from other value retailers so we don't currently believe customers will face a reduction in choice, value or lower-quality service as a result of the merger.

We have also seen in recent years the Big Four supermarkets engaging in intense price competition, some of which involving the promotion of £1 products. On the basis of the evidence to date, we do not think customers will be worse off from the merger.
Anyone wishing to respond to the provisional findings should do so in writing, by no later than 5pm on 16 September 2015. Please email poundland.99p@cma.gsi.gov.uk or write to:
Project Manager
Poundland/99p Stores merger inquiry
Competition and Markets Authority
Victoria House
Southampton Row
London
WC1B 4AD

The provisional findings report will be available on the investigation case page along with all other published information relating to the investigation.
Notes for editors
The CMA is the UK's primary competition and consumer authority. It is an independent non-ministerial government department with responsibility for carrying out investigations into mergers, markets and the regulated industries and enforcing competition and certain aspects of consumer law.
The UK merger control regime has 2 phases. In effect, under the Enterprise Act 2002, in phase 1 the CMA has a legal duty to make a merger reference for an in-depth phase 2 investigation if, during the 40 working days of its initial phase 1 investigation, it has a reasonable belief, objectively justified by relevant facts, that there is a realistic prospect of a substantial lessening of competition arising from a merger. Where a merger is referred to phase 2, the CMA must then decide, on the balance of probabilities, whether the merger has resulted, or may be expected to result, in a substantial lessening of competition.
All the CMA's functions in phase 2 merger inquiries are performed by inquiry groups chosen from the CMA's panel members. The appointed inquiry group are the decision makers on phase 2 inquiries.
The CMA's panel members come from a variety of backgrounds, including economics, law, accountancy and/or business; the membership of an inquiry group usually reflects a mix of expertise and experience (including industry experience).
The inquiry group appointed for the present inquiry comprises: Philip Marsden (Chairman), Katherine Holmes, John Krumins and Tim Tutton.
Enquiries should be directed to Siobhan Allen (siobhan.allen@cma.gsi.gov.uk, 020 3738 6798).
For more information on the CMA, see our homepage or follow us on Twitter @CMAgovuk, Flickr and LinkedIn. Sign up to our email alerts to receive updates on merger cases.
Published 25 August 2015