Press release
CMA provisionally clears foundation trust hospitals merger
The CMA has today provisionally cleared the proposed merger between 2 hospital trusts, following an in-depth investigation.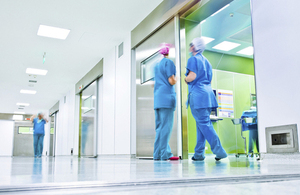 Ashford and St Peter's Hospitals NHS Foundation Trust (ASP) and Royal Surrey County Hospital NHS Foundation Trust (RSC) provide clinical services from their sites in Ashford, Chertsey and Guildford.
The proposed merger was referred for an in-depth phase 2 inquiry in February after an initial Competition and Markets Authority (CMA) investigation found that the proposed acquisition might result in a substantial lessening of competition across a range of healthcare services.
Competition in the NHS is one of a number of important drivers of the quality of services for patients, supplementing the role played by regulation, various regulatory bodies and commissioners as well as the professionalism of NHS staff. Patients have the right to choose which hospital to attend for a first consultant-led outpatient appointment. This patient choice creates an incentive for NHS providers to improve the quality of their services in order to attract patients and funding.
The CMA inquiry group investigated the potential impact of the proposed acquisition on the services provided by both trusts. These are elective services, emergency services, services provided to private patients, specialised services and community health services.
The group examined evidence from ASP and RSC about the provision of healthcare services in their area, as well as evidence from a number of third parties including patients and GPs in the area, Monitor, NHS England, local Clinical Commissioning Groups and neighbouring hospitals.
Based on the evidence provided, the inquiry group has provisionally concluded that the proposed merger, if completed, will not give rise to a substantial lessening of competition.
Simon Polito, Chairman of the inquiry group, said:
Choice of hospital for patients and commissioners has an important role to play in the NHS, as do a number of other factors that help to maintain and improve the quality of services. Indeed, we have been struck throughout this investigation by the commitment and professional pride in the provision of high quality care for patients shown by the many different NHS representatives we have encountered.

We have looked closely at ways in which the proposed merger might affect patient choice and the quality of healthcare services provided by the 2 trusts and other hospitals in their area.

The impact of a hospital merger on competition will largely depend on the number and strength of alternative service providers in the local area. There are a number of hospitals nearby which currently attract significant numbers of patients from the local area. We consider that these are viewed as credible alternatives by patients and GPs.

Against this background, and following a detailed investigation, we are satisfied that in each of the services where the hospitals overlap, the merged trust will face significant competitive pressures from other local hospitals.

We have therefore provisionally concluded that the merger is not likely to lead to a substantial lessening of competition that would reduce the range or quality of healthcare services provided to patients and we are proposing to allow it to proceed.
Notes for editors
The CMA is the UK's primary competition and consumer authority. It is an independent non-ministerial government department with responsibility for carrying out investigations into mergers, markets and the regulated industries and enforcing competition and consumer law.
At phase 1, if the CMA is of the view that a merger raises a realistic prospect of a substantial lessening of competition (SLC) it must refer the merger for a phase 2 investigation, unless an exception to the duty to refer applies. Section 33(2)(c) of the Enterprise Act 2002 allows the CMA to exercise its discretion not to refer a merger giving rise to a realistic prospect of an SLC for a phase 2 investigation if it believes it is or may be the case that relevant customer benefits in relation to the creation of the relevant merger situation would outweigh the SLC concerned and any adverse effects resulting from it.
The CMA notified Monitor when it decided to carry out an investigation under the UK merger control rules, pursuant to section 79 of the Health and Social Care Act 2012, which applies to mergers involving NHS foundation trusts. Monitor provided advice on the effect of the merger under investigation.
Under the Enterprise Act 2002 a relevant merger situation is or will be created if 2 or more enterprises have ceased or will cease to be distinct enterprises; and the value of the turnover in the United Kingdom of the enterprise being taken over exceeds £70 million; or as a result of the transaction, in relation to the supply of goods or services of any description, a 25% share of supply in the United Kingdom (or a substantial part of it) is created or enhanced.
Since the Health and Social Care Act in 2012, 5 hospital trust mergers have been cleared at phase 1, and one prohibited.
Elective acute services are services that are planned and typically require a referral from a GP or an allied healthcare professional. Non-elective acute services (or emergency services) are services that are unplanned or provided in urgent circumstances, such as A&E, as well as supporting services such as emergency surgery and critical care. Services to private patients are services provided to private (fee-paying) patients. Specialised services are often low-volume, and tend to have few providers in a region. These services can be elective or non-elective. Community services are services provided in residential and community settings, such as schools and small local hospitals.
Enquiries should be directed to Simon Belgard (simon.belgard@cma.gsi.gov.uk, 020 3738 6472).
For more information on the CMA, see our homepage, or follow us on Twitter @CMAgovuk, Flickr and LinkedIn. Sign up to our email alerts to receive updates on merger cases.
Published 14 August 2015