Press release
CMA provisionally clears BT/EE merger
The Competition and Markets Authority (CMA) has provisionally cleared BT's anticipated acquisition of EE.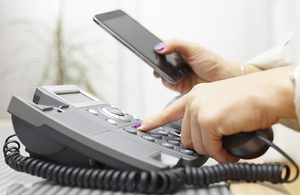 BT Group plc (BT) and EE Limited (EE) are large telecommunications companies in the UK. They operate largely in separate areas with BT strong in supplying fixed communications services (voice, broadband and pay TV), EE strong in supplying mobile communications services, and limited overlap between them in both categories of service. BT (including Openreach) also provides many fixed services to other communications providers, including backhaul services to mobile communications providers such as EE, O2, Three and Vodafone. These backhaul services connect radio masts to core networks. EE also provides wholesale mobile services to other mobile service providers.
The CMA inquiry group has been looking at how the tie-up would affect competition in a number of different areas of the telecoms sector. As well as looking at how the merger might affect competition for services to consumers which both companies currently provide, the group has considered whether it might alter the merged company's incentives to continue to supply services to other communications providers on a wholesale basis.
After looking in detail at different markets - including the supply of retail mobile, wholesale mobile, mobile backhaul, wholesale broadband and retail fixed broadband services - the group has provisionally decided (PDF, 333KB, 15 pages) that the merger is not expected to result in a substantial lessening of competition (SLC) in any market in the UK.
John Wotton, Inquiry Chair said:
We recognise that this is a merger which is important to many consumers and businesses. We have heard a number of concerns from competitors. After a detailed investigation, our provisional view is that these concerns will not translate into a competition problem in practice.

We provisionally think that the retail mobile market in the UK, with 4 main mobile providers and a substantial number of smaller operators, is competitive. As BT is a smaller operator in mobile, it is unlikely that the merger will have a significant effect on competition. By the same token, it is unlikely that the merger will have a significant effect on competition in the retail broadband market, where EE is only a minor player.

We have also been looking at the ways in which, as a merged company, BT/EE might try to disadvantage competitors which it supplied with services such as backhaul, wholesale mobile or wholesale broadband services. We have provisionally found that in some areas it is unlikely that they would have both the ability and incentive to do so - and in others that the effects of their attempting to do so would be limited.

Having considered all the evidence, the group does not provisionally believe that, in a dynamic and evolving sector, it is more likely than not that BT/EE will be able to use its position to damage competition or the interests of consumers.
The inquiry group has considered 10 areas of concern (or theories of harm) outlined in the issues statement published in July. The group is unanimous in provisionally finding no SLC in relation to all but one of the markets reviewed. In relation to the wholesale mobile market, the group is evenly divided over whether the concerns it investigated gave rise to an SLC. However, a finding of SLC requires a two-thirds majority of the group, and therefore no SLC has also been found in relation to that market.
We have only considered Openreach to the extent it is relevant to issues arising from the merger. We are aware of concerns voiced recently about Openreach and wider concerns are currently being considered by Ofcom in their review of the whole telecommunications market.
The full provisional findings report will be published later this week on the case page along with all other published information relating to the inquiry.
The CMA has also extended the deadline for its final report by 8 weeks to 18 January 2016 (see notes to editors) to allow it to consider all responses to the provisional findings in detail before finalising and publishing its decision.
Anyone wishing to respond to the provisional findings should do so in writing, by no later than 5pm on 19 November 2015. Please email BT.EE@cma.gsi.gov.uk or write to:
Project Manager
BT/EE merger inquiry
Competition and Markets Authority
Victoria House
Southampton Row
London
WC1B 4AD

Notes for editors
The CMA is the UK's primary competition and consumer authority. It is an independent non-ministerial government department with responsibility for carrying out investigations into mergers, markets and the regulated industries and enforcing competition and consumer law.
The BT/EE inquiry group consists of John Wotton (Inquiry Chair), Robin Aaronson, Dr Graham Sharp and Bob Spedding.
All the CMA's functions in phase 2 merger inquiries are performed by independent inquiry groups chosen from the CMA's panel members. The appointed inquiry group are the decision-makers on phase 2 inquiries.
The CMA's panel members come from a variety of backgrounds, including economics, law, accountancy and/or business; the membership of an inquiry group usually reflects a mix of expertise and experience (including industry experience).
The inquiry was referred for an in-depth phase 2 investigation on 9 June 2015
The inquiry group may extend the 24-week period within which it is required to publish its report by no more than 8 weeks if it considers that there are special reasons why the report cannot be published within that period.
The CMA earlier this month issued a request for the European Commission to refer the separate Three/02 merger to be referred back to the CMA for investigation.
For more information on the CMA see our homepage or follow us on Twitter @CMAgovuk, Flickr and LinkedIn. Sign up to our email alerts to receive updates on mergers cases.
Enquiries should be directed to Siobhan Allen (siobhan.allen@cma.gsi.gov.uk, 020 3738 6460).
Published 28 October 2015