Press release
CMA requests UK review of O2/Three merger
The CMA has made a request to the European Commission to refer Hutchison's proposed acquisition of Telefonica Europe to the CMA for investigation.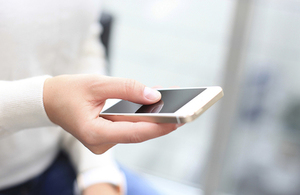 CK Hutchison Holdings Ltd (Hutchison) owns mobile network operator Three in the UK, whilst Telefonica Europe plc owns O2. The merger was formally notified to the European Commission (EC) on 11 September.
The Competition and Markets Authority's (CMA) initial view, following consultation and preliminary analysis, is that the transaction threatens to affect significantly competition in the UK retail mobile and wholesale mobile markets.
It also believes it is appropriate for the case to be referred to the CMA for investigation because any impact on competition resulting from the merger will likely be limited to UK consumers and because of the CMA's experience in investigating telecoms mergers - as demonstrated by the CMA's ongoing investigation into the BT/EE merger in this market. Given the clear links between these 2 cases it would be more efficient to also examine the merger between Three and O2, in particular to avoid duplication and fragmentation. The CMA also received support from industry participants in making the request.
The decision on whether or not to refer the case must be taken by the EC by 30 October 2015.
Notes for editors
The CMA is the UK's primary competition and consumer authority. It is an independent non-ministerial government department with responsibility for carrying out investigations into mergers, markets and the regulated industries and enforcing competition and consumer law
On 16 September 2015, the CMA commenced consultation on whether to review the UK aspects of the acquisition by CK Hutchison Holdings Ltd (CKHH) of Telefonica Europe plc (O2 UK).
Mergers that initially fall within the jurisdiction of the EU Merger Regulation may, in some circumstances, be referred to the UK to be examined by the CMA under the Enterprise Act 2002. In this case, the CMA is requesting that the European Commission refers to the acquisition by CK Hutchison Holdings Ltd (CKHH) of Telefonica Europe plc (O2 UK) to the CMA under the provisions of Article 9 of the EU Merger Regulation. The CMA has 15 working days from receipt from the Commission of a copy of the formal notification documentation to request that a merger is referred to it.
Details of the EC's investigation into the merger can be obtained from the EC's website.
The EC will, as a general rule, inform the CMA and the notifying parties of its decision in respect of a request for referral under Article 9 within 35 working days from the formal notification of the merger or, where the EC has initiated proceedings under Article 6(1) (c) EU Merger Regulation, within 65 working days.
Enquiries should be directed to Siobhan Allen (siobhan.allen@cma.gsi.gov.uk, 020 3738 6460).
For information on the CMA see our homepage, or follow us on Twitter @CMAgovuk, Flickr and LinkedIn. Sign up to our email alerts to receive updates on merger cases.
Published 2 October 2015