Press release
CMA orders Diebold Nixdorf to sell one of UK cashpoint businesses
The CMA has decided that Diebold Nixdorf must sell one of its UK cashpoint businesses to preserve competition.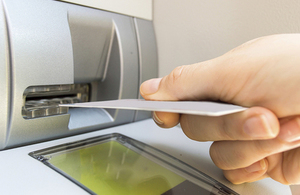 Diebold Incorporated (Diebold), a US company which provides financial self-service (FSS) products including automatic teller machines (ATMs, also known as cashpoints), bought Wincor Nixdorf (Wincor), a German firm which also provides FSS products, including ATMs, on 16 August 2016. The new company was named Diebold Nixdorf Incorporated.
The Competition and Markets Authority's (CMA) group of independent panel members investigating the merger has published its final decision today, following its provisional findings in December. It has found that the market for customer-operated ATMs in the UK contains only 3 significant suppliers – NCR, Diebold and Wincor – and that the merger between 2 of those companies will result in a substantial lessening of competition that may lead to higher prices or loss of quality.
To prevent that, the group has decided that Diebold Nixdorf must sell either Diebold's or Wincor's customer-operated ATMs business in the UK to a new owner, to be approved by the CMA, in order to preserve competition.
Martin Cave, Inquiry Chair, said:
"We carefully examined the business in the UK and found that the reduction of the market to only 2 main competing companies could lead to less choice, higher prices and worse service to customers.
"With expansion by other companies unlikely to occur both quickly and on enough scale to compensate, we have decided that selling either the Diebold or Wincor business in the UK is the only way to prevent the loss of competition. Sale of the business to a qualified purchaser must now take place before the UK merger can be completed."
Full information on the merger can be found on the case page.
Notes for editors
The CMA is the UK's primary competition and consumer authority. It is an independent non-ministerial government department with responsibility for carrying out investigations into mergers, markets and the regulated industries and enforcing competition and consumer law. For more information on the CMA see our homepage or follow us on Twitter @CMAgovuk, Flickr, LinkedIn, and like our Facebook page. Sign up to our email alerts to receive updates on mergers cases.
ATMs are machines that dispense cash and may also offer facilities such as cash/cheque deposit, transaction enquiries and statements etc.
The CMA referred the case for in-depth investigation on 30 August 2016.
The members of the inquiry group are: Martin Cave (Inquiry Chair), Bob Spedding, Roger Finbow and Sarah Chambers.
All the CMA's functions in phase 2 merger inquiries are performed by independent inquiry groups chosen from the CMA's panel members. The appointed inquiry group are the decision-makers on phase 2 inquiries.
The CMA's panel members come from a variety of backgrounds, including economics, law, accountancy and/or business; the membership of an inquiry group usually reflects a mix of expertise and experience.
Media enquiries should be directed to Rebecca Cassar (rebecca.cassar@cma.gsi.gov.uk, 020 3738 6633).
Published 16 March 2017