News story
CMA opens consultation on consumer law advice for UK higher education providers
The CMA has today opened a consultation on draft consumer law advice for UK higher education (HE) providers.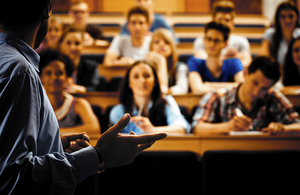 This is to help providers understand how to comply with consumer law in their dealings with undergraduate students. This advice may also be relevant to providers of other types of HE courses.
The draft advice has been developed following work undertaken by the Office of Fair Trading and taken forward by the Competition and Markets Authority (CMA). Following the CMA's work, and further engagement with stakeholders, the CMA considers that advice for universities and further education colleges that provide HE would help clarify their responsibilities under consumer law.
The consultation will run for 4 weeks, closing on Thursday 18 December 2014. The CMA will publish a final version of the compliance advice and a summary of the responses received. Alongside this, the CMA intends to produce materials to raise undergraduate students' awareness of their rights under consumer law.
For further information see the higher education: consumer protection review case page.
Published 19 November 2014