Press release
CMA launches campaign to crack down on cartels
Whistleblowers are being offered up to £100,000, as the CMA launches its first-ever advertising campaign to crack down on cartels.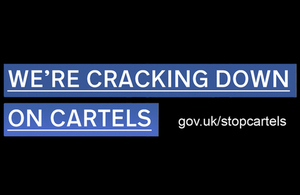 The Competition and Markets Authority (CMA) is targeting illegal cartels – businesses which cheat their customers by agreeing not to compete with each other in order to keep their prices high. The practice stops ordinary people and other businesses from getting a fair deal as well as stifling competition.
The CMA's campaign 'Cracking down on Cartels' will encourage people who have witnessed illegal activity to report it, by offering a reward of up to £100,000 as well as promising them anonymity.
Andrea Coscelli, Acting Chief Executive, said:
Cartels are a form of stealing that cheat ordinary people as well as other businesses by undermining competition, and we are committed to tackling them wherever we find them. Cartels are carried out in secret to make you think you are getting a fair deal, even when you are being conspired against to keep prices high.

Cartels are both harmful and illegal, and the consequences of breaking the law are extremely serious. That is why we are launching this campaign – to help people understand what cartel activity looks like and how to report it so we can take action.
CMA research found that - whilst most businesses have a shared ethical sense that conduct such as price-fixing is unfair or wrong - less than a quarter of businesses said they knew competition law well.
This research has led to the creation of the first advertising campaign run by the CMA specifically designed to stamp out cartel activity and encourage people to report it to the CMA. Adverts will appear in people's social media feeds, such as Twitter and LinkedIn, as well as on key websites.
Cartels have been uncovered in a range of industries and the campaign builds on recent CMA cartel cases. These have included:
Further cases of suspected cartel are currently under investigation.
Notes for editors
The CMA is the UK's primary competition and consumer authority. It is an independent non-ministerial government department with responsibility for carrying out investigations into mergers, markets and the regulated industries and enforcing competition and consumer law. For CMA updates, follow us on Twitter @CMAgovuk, LinkedIn, Facebook and Flickr.
To report a cartel: email cartelshotline@cma.gsi.gov.uk or ring 0800 085 1664 or 020 3738 6888.
Businesses found to have been involved in illegal cartels can be fined up to 10% of their annual turnover, individuals can face up to 5 years in prison and directors can be disqualified from holding director positions for up to 15 years. These can be reduced or eliminated altogether where a business or individual reports their involvement in a cartel and co-operates fully with the CMA's investigation.
To confess your involvement in a cartel and apply for leniency, or for confidential guidance: call 0203 738 6833.
The campaign page can be found at: https://stopcartels.campaign.gov.uk/
Enquiries should be directed to Rebecca Cassar (rebecca.cassar@cma.gsi.gov.uk, 020 3738 6633).
Published 20 March 2017