Press release
CMA issues reminder on no-claims bonus requirements
Around 1,000 private motor insurance providers are now providing better information on no-claims bonus protection to drivers.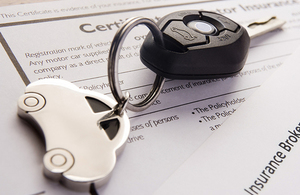 This is in response to a Competition and Markets Authority (CMA) Order which came into effect one month ago.
The Order obliges all providers of private motor insurance (PMI) - both brokers and insurers - to present existing and prospective customers with information on the costs and benefits of no-claims bonus (NCB) protection, including what happens to these bonuses in the event of claims being made.
PMI providers are now required to provide the CMA with the information that they must present to customers, and written confirmation that they have complied with the Order in preparing such information. This requirement followed a CMA investigation into the PMI market, in relation to which the CMA published its final report in September 2014.
The CMA is reminding providers that complying with the Order is a legal requirement and that those which have yet to supply the required information to their customers and confirm to us that they have done so, must do so as soon as possible. Those which have complied so far include 9 of the 10 largest insurers and the 5 largest brokers.
The largest insurer yet to do so, Co-op Insurance, has informed the CMA that for a small proportion of its new business and renewals it can only at present disclose some of the information required by the Order. However it is working towards compliance, and in the meantime will be making it clear to affected customers that it is currently unable to show separately the cost of NCB protection included in the total premium in written offers and documents.
The CMA will continue to monitor all companies selling PMI to ensure that they comply with the requirement as soon as possible. In doing so the CMA will continue to work with the relevant insurance associations (the Association of British Insurers and the British Insurance Brokers' Association) and the Financial Conduct Authority.
Adam Land, Senior Director of Remedies, Business and Financial Analysis said:
As we found in our investigation, the price and benefits of no-claims bonus protection are often unclear to consumers. This requirement will ensure that drivers can obtain better value by making it easier to compare products and costs.

Whilst we are pleased that most providers have responded in time, we are disappointed that a large company like Co-op has been unable to - despite us giving all companies in the market well over a year to ensure that they comply with these important requirements. We expect Co-op and any other smaller companies in the same position to work towards providing this information to customers without any further delay.
The Order and an explanatory note on its requirements are available on the CMA's webpages. Businesses are requested to submit their compliance statements by email to pmi.order@cma.gsi.gov.uk - and to send any questions to the same address.
Notes to editors
The CMA is the UK's primary competition and consumer authority. It is an independent non-ministerial government department with responsibility for carrying out investigations into mergers, markets and the regulated industries and enforcing competition and consumer law. For more information see the our homepage or follow us on Twitter @CMAgovuk, Flickr and LinkedIn.
All information on the private motor insurance market investigation is available on the case page. The Order was published in March 2015.
PMI providers (insurers and brokers) are required to provide the next compliance statement to the CMA by 1 February 2017 and annually thereafter.
The Order also includes a ban on agreements between price comparison websites (PCWs) and insurers which stop insurers from making their products available more cheaply on other online platforms. This obligation came into effect in April 2015. PCWs have submitted compliance statements to the CMA from 15 July 2015 on a quarterly basis, and by 1 February 2018 must provide an annual compliance statement.
The CMA has a duty under the Enterprise Act 2002 (the Act) to monitor enforcement orders. Further, the Act provides that, where a party does not comply with an enforcement order, the CMA may apply to the court to seek an appropriate remedy. The CMA does not, however, have a power to impose financial penalties for non-compliance. The Act also gives rights to persons who sustain loss or damage as a result of the breach of a duty owed to them under the order.
Co-op Insurance is a trading name of CIS General Insurance Limited.
Enquiries should be directed to Simon Belgard (simon.belgard@cma.gsi.gov.uk, 020 3738 6472).
Published 2 September 2016