Press release
Drivers benefit as CMA motor insurance order goes live
Millions of motorists will today see the benefits of measures to boost competition in car insurance as the CMA order comes into effect.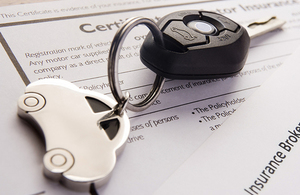 The final requirements of the Competition and Markets Authority's (CMA) Private Motor Insurance Order came into effect today (1 August 2016). The measures are intended to boost competition and reduce premiums for drivers.
The order, which applies to all providers of private motor insurance (brokers and insurers):
gives better information on the costs and benefits of no-claims bonus protection (this comes into effect today)
bans agreements between price comparison websites and insurers which stop insurers from making their products available more cheaply on other online platforms (this came into effect in April 2015)
Alasdair Smith, Chairman of the Private Motor Insurance Investigation Group, said:
There are more than 25 million privately registered cars in the UK and these changes will benefit them by introducing more competition into the market and reducing premiums as well as providing better information for motorists.

Measures within the order have been phased in since it was made in March 2015 and we are generally satisfied with the co-operation of the insurance industry.
All private motor insurers (including brokers) are required to submit compliance reports to the CMA on 1 August, and then annually from 1 February next year. The CMA will be monitoring compliance to ensure that consumers benefit fully from the order's provisions.
Notes for editors
The CMA is the UK's primary competition and consumer authority. It is an independent non-ministerial government department with responsibility for carrying out investigations into mergers, markets and the regulated industries and enforcing competition and consumer law. From 1 April 2014 it took over the functions of the Competition Commission and the competition and certain consumer functions of the Office of Fair Trading, as amended by the Enterprise and Regulatory Reform Act 2013. For more information see the CMA's homepage or follow us on Twitter @CMAgovuk, Flickr and LinkedIn.
The private motor insurance market investigation began in September 2012. The order was published in March 2015.
Enquiries should be directed to Simon Belgard (simon.belgard@cma.gsi.gov.uk, call 020 3738 6472).
Published 1 August 2016