Press release
Cleaner, greener transport, door to door
Plans announced to reduce barriers to the use of sustainable local transport.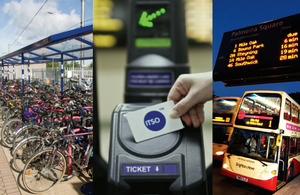 The government's plan to make seamless, convenient journeys using greener modes of transport an everyday reality was unveiled by Transport Minister Norman Baker today (14 March 2013).
Speaking at the launch of the door to door strategy, the coalition government's vision for a flourishing, joined-up, sustainable transport system, Norman Baker said:
Helping people use greener modes of transport will help create growth and cut carbon, easing congestion on our roads and encouraging people to opt for greener, healthier options. But to make that happen we need low carbon travel to become as easy as jumping into the car. This strategy pulls together, for the first time, a whole range of different areas of work aimed at making sustainable transport a viable option for everybody.

When people are thinking about their journey, they naturally think about the cost and complexity of the entire trip, door to door, not just the ride on the train or bus. So as well as cutting out the hassle of travelling by bike, by foot and by public transport, we need to make it simpler and more reliable to combine different ways of travelling to get the whole way from A to B. A sustainable journey is only as attractive as its weakest link.
Currently, for journeys of less than 5 miles in Great Britain 54% of people travel by car. For longer journeys this increases to 80%. The door to door strategy focuses on four core areas which need to be addressed so that people can be confident in choosing greener modes of transport:
accurate, accessible and reliable information about different transport options for their journey
convenient and affordable tickets, for an entire journey
regular and straightforward connections at all stages of the journey and between different modes of transport
safe and comfortable transport facilities
It also sets out how the government is encouraging behaviour change by helping reduce or remove barriers to the use of sustainable transport, and working closely with operators, local authorities and industry experts to deliver a better-connected transport system.
The strategy cites examples of innovative schemes which are already making it easier for passengers to travel by more sustainable modes, including South Yorkshire's multi-operator ticket which is valid on buses, tram and trains, and the Leeds cycle point scheme which was the first cycle hub in the UK offering secure cycle parking along with retail and repair facilities, cycle hire and information.
Malcolm Shepherd, Chief Executive of Sustrans said:
As fuel prices rise and we struggle to find opportunities to live healthy lives, it's important to ensure it is easier to make journeys by bike, foot or public transport. This strategy reflects the increasing recognition within government that we must invest in creating a high-quality cycling and walking environment and ensure public transport is accessible to all.
Stephen Joseph, Chief Executive of Campaign for Better Transport said:
We need to improve the transport choices people have every time they step out the door. Campaign for Better Transport has consistently argued that joining each part of the journey up makes alternatives to the car more attractive - for convenience, cost and impact. This strategy is an important first step in making that happen.
The government also published guidance today to help local authorities introduce ticketing schemes that allow passengers to use the same ticket on more than one operator's services.
Michael Roberts, Chief Executive for the Association of Train Operating Companies said:
We support the goal of promoting greener and more sustainable forms of transport. Train companies are determined to help more people find alternative ways of getting to their local stations and have already brought about a range of improvements for passengers that want to go by bike or combine local bus and rail travel.

After years of decline the railway is booming with more journeys now being made than at any time since the 1920s. Operators are committed to improving door to door journeys to attract even more people to use the train.
Notes to editors
Read the government's door to door strategy.
The Transport Minister Norman Baker's written ministerial statement is available on the Department for Transport (DfT) website.
The government's door to door strategy builds on the government's 2011 local transport white paper.
To accompany the door to door strategy, Transport Minister Norman Baker also launched the department's multi-operator ticketing guidance for local transport authorities. Publication of the guidance is the first of the Competition Commission's suggested remedies to the local bus market that has been fully addressed by DfT, and re-affirms the government's commitment to improving bus services for passengers. The multi-operator ticketing guidance is available on the DfT website.
Published 14 March 2013