Press release
Update - Child care business scheme
Apply now for a cash boost of up to £500 to help start up your new business.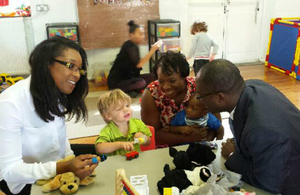 A scheme offering grants of up to £500 to people in England who want to start their own childcare business has been extended until 31 December 2014.
The government's Childcare Business Grant Scheme has already approved over 4,500 successful applications to help new childcare businesses get off the ground.
The initiative, which was launched in April 2013, aims to support over 7,000 new childcare enterprises. It helps people pay for things like training, equipment, insurance and adaptations to premises that can otherwise be tough when you're setting up a new business.
Nicky Morgan, Minister for Women and Equalities said:
The childcare business grant is a key part of our long-term economic plan. It has already benefited thousands of people, from nursery owners and childminders to the children of parents who use them.

We know that it can be tough setting up your own business. This money is a helping hand for people who care about children and want to work looking after them.

It will also encourage the creation of more childcare places, a key part of our plan to help parents who want to get back to work after having children.
To celebrate the milestone, Children's Minister Sam Gyimah today visited the Brown Bears Nursery in Tottenham, which owner Cheryl Brown opened up after accessing a grant.
Children's Minister Sam Gyimah said:
We know that parents want good-quality, affordable and available childcare. The childcare business grant encourages the creation of more places, helping mothers get back to work.

This money is a fantastic opportunity for anyone who wants to set up their own business to look after children. If you are thinking about taking the first steps towards becoming a childminder or nursery owner then I encourage you to apply.
The grants offer £500 for those looking to start nurseries or look after disabled children, and £250 to prospective childminders.
As part of the Childcare Business Grant Scheme, new childcare businesses are also being encouraged to team up with a free mentor so they can access free and specially-tailored start-up advice.
Find out more information about how to apply to the Childcare Business Grant Scheme
Notes to editors
Applications to the Childcare Business Grant Scheme must be received by December 31 2014. Read more information about the childcare business grant.

Read information about the free start-up advice businesses can receive.

The government understands the difficulties faced by working parents and is working to improve the choice, quality and flexibility of childcare available to them.
The government:
is providing free childcare of 15 hours a week for all 3- and 4-year-olds, an increase from 12.5 hours under the previous government, saving families an additional £380 a year per child
has extended free childcare of 15 hours a week to the most disadvantaged 2-year-olds, with 40% eligible from this September
is from next year introducing tax-free childcare of up to £2,000 per child
is supporting low income families on universal credit who will receive up to 85% of their childcare costs
has improved the quality and status of the early years workforce through new early years educator and early years teacher qualifications
has worked with Ofsted to introduce a more robust regulatory and inspection framework for the early years
DfE enquiries
Central newsdesk 020 7783 8300
General enquiries 0370 000 2288
Published 4 September 2014