World news story
Chevening Alumni meet
This was published under the 2010 to 2015 Conservative and Liberal Democrat coalition government
Alumni from the UK's prestigious Chevening post-graduate Scholarship scheme meeting with representatives from the British High Commission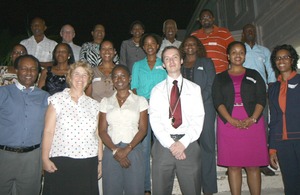 UK Chevening scholarships and fellowships have been awarded over four decades in Barbados and the Eastern Caribbean, and there were representatives from all four decades at an Alumni meeting held at the British High Commissioner's residence on 19 June.
A group of Alumni came together for an update on FCO and High Commission activities and priorities, including a read-out of the recent G8 meeting at Lough Erne in Northern Ireland from Deputy High Commissioner Phil Culligan. Entertained by a video presentation showcasing the UK's GREAT campaign, the Alumni, who came from a wide variety of backgrounds, had a lot of opportunity for networking and finding areas of common interest. Alumnus André Griffith presented the option of a Barbados and Eastern Caribbean sub-group in Linked-in, which he will be carrying forward with the FCO Chevening section.
There was widespread enthusiasm to repeat the event, and to invite guest speakers on specialist subjects. Gilly Metzgen, Political Officer at the High Commission responsible for Alumni relations, informed the group that further meetings with local Alumni will take place in each of the Eastern Caribbean countries before the end of the year. She also agreed to take forward the possibility of links with Alumni groups in Trinidad, Guyana, Jamaica and Belize.