News story
Charity Fraud Awareness Week (22 – 26 October 2018)
During fraud awareness week we'll be helping the charity sector become more resilient to fraud.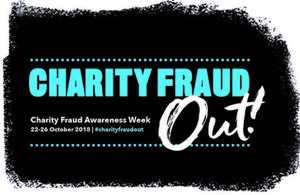 This is the third annual Charity Fraud Awareness Week aiming to help you increase resilience against fraud.
More than 40 charities, regulators, professional bodies and other stakeholders are joining forces to help combat fraud targeted against charities.
The main aims of the week are to:
raise awareness of the key risks affecting the sector
promote and share good counter-fraud practices
promote honesty and openness about fraud
Fraud awareness week themes
Each day of national charity fraud week the campaign will focus in on particular topics.
| | |
| --- | --- |
| Monday 22 October | Cyber fraud (current and emerging threats) |
| Tuesday 23 October | Grant fraud (due diligence and partnership working) |
| Wednesday 24 October | Donation fraud/legacy fraud |
| Thursday 25 October | Insider fraud |
| Friday 26 October | Moving money safely |
Fraud week helpsheets
These short helpsheets will help you understand fraud topics and have useful advice to protect your charity.
Fraud week e-learning videos
Cyber fraud
Cyber fraud (e-learning resource)
Due diligence and partnership working
Due diligence and partnership working (e-learning resource)
Creating a counter fraud framework
Creating a counter fraud framework
Crowdfunding
Insider fraud
Whistleblowing
Whistleblowing to the regulators
Banking fraud
Published 1 October 2018
Last updated 26 October 2018
+ show all updates
Added a banking fraud e-learning video.
Added new helpsheets and webinars related to charity fraud topics.
Added a link to a fraud webinar on Friday 26 October.
First published.