Press release
Centres selected to host cutting-edge cancer services
Up to £250 million invested in bringing advanced radiotherapy treatment to UK.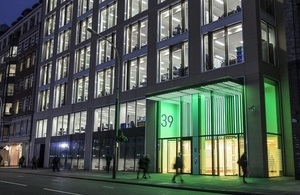 Around 1,500 cancer patients a year will benefit from a cutting edge cancer treatment - Proton Beam Therapy - that will be available in London and Manchester, Health Secretary Andrew Lansley announced today.
Up to £250 million will be invested by the NHS in building Proton Beam Therapy facilities at The Christie NHS Foundation Trust hospital in Manchester and University College London Hospitals NHS Foundation Trust. The Department of Health have set aside public capital for this scheme.
Proton Beam Therapy is a type of radiotherapy, which uses a precision high-energy beam of particles to destroy cancer cells. The treatment is particularly suitable for complex childhood cancers, increasing success rates and reducing side-effects, such as deafness, loss of IQ and secondary cancers.
Given the complex nature of the treatment and facilities, Proton Beam Therapy won't be fully available in England until 2017. Until then, the NHS will continue to fund patients in need of Proton Beam Therapy to go abroad - either to Switzerland or the USA. By 2014/15 the NHS will be spending £30 million per year sending up to 400 patients overseas.
Health Secretary, Andrew Lansley, said:
"Developing a national proton beam therapy service is vital to ensuring our cancer facilities are world class. We have always said that it is patient outcomes which matter, and to get the best for patients we must always be looking to push the boundaries.
"In addition to improved success rates proton beam therapy reduces the side-effects which patients, particularly children, can suffer as a result of traditional forms of cancer treatment. 
"Once this service is in place, The Christie and UCLH will boast unparalleled cancer facilities. It will mean more patients will be able to get this treatment, including those for whom travelling abroad for long periods is not possible."
Andrew Lansley made a commitment to the programme in 2010 when he pledged over £50 million across the Spending Review period to allow up to 400 high priority patients to be treated abroad while we developed the business case to establish a national service here.
The Department of Health plans to introduce PBT services at The Christie and UCLH. The Department's assessment shows this to be affordable and deliverable in the short term. The development of the service will be closely monitored and should further capacity be needed in the future, the preferred third site is University Hospitals Birmingham, subject to normal business cases processes and the views of the NHS Commissioning Board.
Notes to editors
For more information please contact the Department of Health News Desk on 020 7210 5221.
Published 5 April 2012