News story
Celebrating women in all walks of life
How the government is marking International Women's Day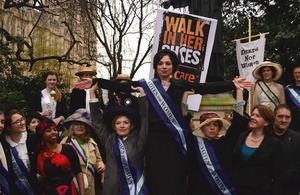 Today, women all over the world are celebrating International Women's Day. It is a day of global events to mark the economic, political and social achievements of women past, present and future.
It's also a chance to empower and inspire women, and to reflect on the progress that has been made. An opportunity to shine a light on the all women that have made a contribution to our society, and who are providing strong role models for future generations.
Minister for Women and Equalities Maria Miller said:
International Women's Day is an opportunity for us to celebrate women in all walks of life.
We have record numbers of women in work and the gender pay gap is closing. But we need to do more. Part of that is removing barriers - making sure that we have modern, flexible workplaces so women don't have to choose between work and family life, as well as affordable and reliable childcare. And part of it is about raising the aspirations and ambitions of women and girls, so they can maximise their potential.
To mark International Women's Day I had the privilege of attended some fantastic events, including at one at the London Science Museum designed to encourage more girls to consider careers in Science, Technology, Engineering and Maths. Over the coming week I will also be hosting a series of meetings and a reception at Downing Street to highlight the important role that women are playing in getting the economy back on its feet.
To mark the occasion:
Maria Miller kicked off International Women's Day by attending a Meet A Mentor breakfast at the THRIVE! conference, hosted by Women Unlimited. The breakfast event brought together mentors that have completed the government-funded mentor training with female entrepreneurs looking for mentors. This activity forms part of a series of government funded activities designed to raise awareness of the benefits of mentoring amongst female led businesses.

The Science Museum hosted a 3 day festival, entitled High Performance, which celebrates extraordinary women in science and technology. Jo Swinson opened the event and met the Cambridge Eco-Racing team and Viridity Girl's Racing Team.

At same event - Maria Miller introduced a talk by British astronaut, Helen Sharman, OBE in the Science Museum's IMAX theatre to primary school children as part of a Space Day programme.

Maria Miller joined Dr Helen Pankhurst (great granddaughter of Emmeline Pankhurst) and the Olympic Suffragettes as they marched in costume to mark International Women's Day.

Mrs Miller also hosted a panel debate: Getting a Broad on Board, to discuss the narrowing the gender pay gap, at the annual Women of the World festival which is designed to celebrate women's achievements and discuss the obstacles they face across the world.

On 6 March, Helen Grant held a roundtable meeting with BME women's organisations to celebrate International Women's Day.
Today, the government has also launched an updated and revised violence against women and girls action plan setting out achievements across government to date and specific commitments for the coming year.
This week the Department for International Development (DFID) launched a new programme worth up to £35 million to help end Female Genital Mutilation (FGM) in Africa and beyond. The programme aims to to reduce FGM by 30% in at least 10 priority countries in the next 5 years and to help end FGM within a generation.
Further information
Published 8 March 2013