News story
Celebrating the best public service mutuals of 2014
The Philip Baxendale Awards, which celebrate employee ownership, recognised several Cabinet Office supported mutuals including winner SEQOL.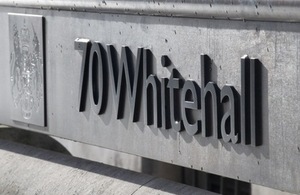 The Philip Baxendale Awards are the UK's only dedicated celebration of excellence in employee ownership. They are co-hosted by the Employee Ownership Association and Baxendale, an employee-owned company founded by Philip Baxendale that provides advice and investment to public service mutual and social enterprises.
Public Service Mutual of the Year
The Public Service Mutual of the Year 2014 award was won by SEQOL in Swindon. Now in its third year, the award celebrates the best group of former public sector workers who have 'spun out' into an employee-led mutual organisation to provide exemplary public services.
Do you work in the public sector? Are you interested in setting up a public service mutual? Find out more.
With over 100 public service mutuals providing more than £1.5 billion of public services, this year's public service mutual award was hotly contested.
SEQOL's success has been driven by its employees, who consistently innovate and have improved their service in several ways, including:
setting up a Discharge, Assessment and Referral Team which has reduced the average length of hospital stay by 3.7 days for patients
providing new Health & Safety training in a local garage which expanded into other motor industry clients in the local area
starting a home-based ultrasound screening service for Deep Vein Thrombosis, resulting in cost savings through fewer hospital visits
SEQOL received its award at last night's Employee Ownership Association Annual Conference gala dinner in Nottingham.
Employee Owned Business of the Year
Circle Partnership became the first mutual to win the Employee Owned Business of the Year award.
For over 10 years Circle has shown an innovative approach. It introduced employee ownership into a new and challenging sector, while performing well financially. Circle also maintained high levels of employee and patient satisfaction in their hospitals and clinical settings, and improved Hinchingbrooke hospital's performance.
Other awards
Other public service mutuals and staff recognised by the awards included:
Teresa Gooch from East Coast Community Healthcare, who won the Employee Ownership Champion Award for increasing employee shareholder numbers and tireless campaigning to ensure employee shareholders are actively involved in decisions in her organisation
The Mary Knowles Homecare Partnership, which won the Rising Star award
Sam Davis from Community Dental Services CIC, and Natalie Styles-Hudson from Hinchingbrooke Hospital, Circle Partnership, who both won 'highly commended' awards in the Innovation category
Cabinet Office Minister Francis Maude said:
Right across the country, public sector staff are taking control of the services they know best – with 100 public service mutuals now providing £1.5 billion of services a year across England.

As part of this government's long-term plan for a stronger economy we are determined to drive up public sector productivity, which flatlined for the 13 years before the 2010 general election. We need innovative new ways of delivering better services for less money, so we are helping public sector workers spin out to form mutuals. I visited SEQOL myself, as well as many other impressive mutuals, and know their success lies in encouraging an entrepreneurial and commercially-rigorous spirit whilst retaining the public sector ethos of sharing good practice for the greater good.
Published 18 November 2014