News story
Celebrating International Women's Day
Ministers' packed day of events to celebrate.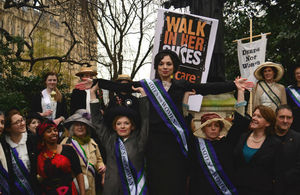 Today is International Women's Day; a day of global celebration marking the economic, political and social achievements of women past, present and future.
The Women and Equalities Ministerial team have a packed agenda of activities to mark the occasion.
This morning Maria Miller spoke at Women Unlimited's annual conference for female business owners and entrepreneurs, which included a matchmaking event for female entrepreneurs looking for a mentor. She then opened a talk by female astronaut Helen Sharman, OBE at the IMAX to inspire the next generation as part of a Space Day programme specially designed for school groups. This afternoon she sat on a panel at the WoW Southbank festival talking about women and business.
Jo Swinson attended the 'High Performance' event at the Science Museum to celebrate women working in science and technology.
On 6 March, Helen Grant held a roundtable meeting with BME women's organisations to celebrate International Women's Day.
Today, the government has also launched an updated and revised violence against women and girls action plan setting out achievements across government to date and specific commitments for the coming year.
This week the Department for International Development (DFID) launched a new programme worth up to £35 million to help end Female Genital Mutilation (FGM) in Africa and beyond. The programme aims to to reduce FGM by 30% in at least 10 priority countries in the next 5 years and to help end FGM within a generation.
Maria Miller also joined Dr Helen Pankhurst, great-granddaughter of Emmeline Pankhurst, and the Olympic Suffragettes as they marched in costume to mark International Women's Day.
The following week will see the government focus on women and growth with a series of roundtables designed to shine a spotlight on some of the most effective ways that the government can assist women in the workplace and enable them to reach their potential.
Further information
Published 8 March 2013