News story
Cabinet Office supporting ITV's Take a Moment campaign
Government is supporting ITV's Take a Moment campaign by giving £5 to Text Santa for every qualifying good deed that people register.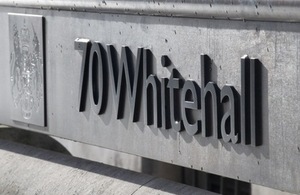 As part of the government's commitment to promote social action, the Cabinet Office are supporting ITV's Take a Moment campaign which launched on 9 September 2013. The campaign aims to encourage people to give something back to their local community through small acts of kindness.
For every qualifying good deed sent in, the Cabinet Office will donate £5 to Text Santa. Not sure where to start? Read some suggestions on what you could do in your neighbourhood.
Getting involved in your community
The work is the latest example of how government is promoting volunteering and other social action. If you are interested in being more involved with your community - eg by becoming a community organiser or volunteering visit Get involved.
Sign up to the volunteering database Do-It to see what you could do in your neighbourhood.
National Citizen Service
For those aged 16 to 17 there is also the National Citizen Service which gives you an opportunity to take part in a team project that will help your community. Visit the NCSYes site for more information and details of how to get involved, or view the NCS Facebook page.
Nick Hurd, Minister for Civil Society said:
There are lots of easy ways to give your time to help others – from having a cup of tea with an older neighbour, to helping out in your local area or making a regular commitment to volunteer with a charity or community group.

That's why the government are supporting Take A Moment by pledging £5 for the first 50,000 acts of kindness registered through the 'This Morning' campaign. We hope that this campaign can help raise awareness and encourages people to get involved.
Text Santa
Text Santa is an appeal which raises donations for charities around the UK. The charities also benefit from the exposure of Text Santa and can see an increase in volunteers as well as visits to their shops and websites. In 2013, Text Santa is supporting:
Age UK
Barnardos
BeatBullying
British Heart Foundation
CLIC Sargent
Help the Hospices
Published 11 September 2013