Press release
Businesses pledge for more fruit and veg
More fruit and veg will be added to ready-meals, and supermarket fruit and veg sections will be expanded as part of a new drive to encourage everyone to get their 5-a-day, Public Health Minister Anna Soubry announced today.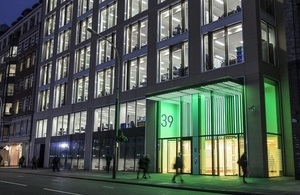 The move comes as part of the latest Responsibility Deal pledge, aiming to encourage action across the food industry to help people eat more fruit and vegetables. This includes foods right across the board - fresh, frozen, canned, dried and juiced products, as well as fruit and vegetables in pre-prepared food, such as ready-meals.
Eating five portions of fruit and veg a day helps to lower the risk of serious health problems, such as heart disease and some cancers, but figures show that two thirds of people still don't eat enough.
The new pledges include:
ALDI will increase the amount of store space dedicated to fresh produce and feature their discounted 'Super 6' fruit and vegetable lines in their promotional activities including TV advertising.
Co-operative Food will target customers who are not buying fruit and vegetables with money-off coupons on fresh, frozen and canned produce, in a bid to change customer behaviour.
Iceland will offer coupon deals on fruit and vegetables, increase their promotion to its customers using new website and social media features, as well as introduce new fruit and vegetable products.
LIDL will rebrand its entire fruit and vegetable range making it more appealing - particularly for children - with fun characters and jokes on kids' packs.
Subway will launch a new campaign fronted by elite athletes Louis Smith and Anthony Ogogo, two of Subway's Famous Fans, to promote their choice of a Low Fat Sub personalised with their favourite extra salad items.
Public Health Minister Anna Soubry said:
"Getting your 5-a-day can help lower the risk of serious health problems, such as heart disease and some cancers, but we know that can be a challenge. That is why we want to work with the food industry to help everyone make healthier choices.
"Through the Responsibility Deal we have already achieved real progress in helping people cut the calories and salt in their diet.
"All of the major supermarkets have now committed to removing artificial trans fats, and over 70 per cent of fast food and takeaway meals sold on the high street have calories clearly labelled.
"This pledge is part of a wider government plan to encourage everyone to eat their 5-a-day, which includes our £10 million investment in the Change4Life campaign, and the 2.1 million children who receive a free piece of fruit or vegetable in school every day under our scheme."
The 16 leading supermarkets, food manufacturers and trade bodies that have signed up to the pledge include ALDI, Co-operative Food, Iceland, LIDL, Morrisons, M&S, Sainsbury's, Tesco, Waitrose, General Mills, Mars Food UK, caterers 3663, Brakes, CH & Co Catering, Subway and the British Frozen Food Federation.
Chair of the Responsibility Deal Food Network **Dr Susan Jebb **said:
"Eating more fruit and vegetables is central to a healthy diet and I am delighted to see the tremendous efforts by the food industry to support this exciting initiative enabling people to boost their consumption.
"We expect to see some of the foods we buy everyday will include more fruit and vegetables. Supermarkets will make access to fresh produce easier and more attractive, as well as offering more promotions in-store. These new commitments complement existing Responsibility Deal pledges to reduce calories and salt and together will help to transform the nation's diet."
British Retail Consortium Food Director **Andrew Opie **said:
"Retailers are supporting this pledge. They recognise how important it is to use innovative products, prominent promotions and competitive pricing to encourage people to eat more fruit and vegetables.
"I hope this public commitment nails the myth that eating healthily is expensive. Customers have never had better access to affordable fresh food."
Director General of the Food and Drink Federation **Melanie Leech **said:
"Processed food and drink plays an important part in helping consumers meet the recommended five portions of fruit and vegetables per day. Different sources of fruit and vegetables all count -fresh, tinned, frozen, dried - and the nutritional benefits are the same if they are eaten on their own or as part of a composite food.
"Alongside other sectors in the food industry, we encourage manufacturers to sign up to this pledge and contribute to helping consumers towards greater fruit and vegetable consumption. This can be achieved by reformulating composite products to increase fruit and vegetable content, providing recipe suggestions on product packs or company websites, or developing new fruit and vegetable based products, for example."
Food Adviser for the British Hospitality Association John Dyson said:
"On behalf of BHA members, we've helped the government develop this Fruit and Veg pledge and we are pleased to see its launch today.   Food Service suppliers such as Brakes and CH&Co have already signed the Fruit and Veg pledge and we will be encouraging other members to follow suit. This is about our industry making a united effort to help improve consumers understanding and habits around eating five portions of fruit and veg every day."
-Ends-
For further media enquiries, please contact the Department of Health press office on 0207 210 5222.
Further highlights from the commitments being made by companies include:
Brakes will encourage their catering customers to include more fruit and vegetables in dishes and on menus through a range of communications and promotions.
The British Frozen Food Federation will promote fruit and vegetables through introducing a dedicated Healthy Options section with recipes and advice on its consumer site.
Contract caterers, CH & Co Catering will encourage its customers to consume more fruit & vegetables in its restaurants by further work on its vegetarian food focus and rewarding customers who buy multiple fruit & vegetable portions in one transaction with discounts.
General Mills will launch a new Green Giant sweet corn "Steam Locked Goodness" campaign, reminding parents that canned vegetables are one of the most convenient ways to help children get their 5-a-day.
Mars Food UK will introduce 5 new products next year as part of their Dolmio Sauce range, which will contribute to 1 of your 5 a day per serving.
Morrisons will revamp the produce department in more stores by introducing new layouts, extended choice and exciting innovations - and from experience expect this could boost sales of fruit and veg by an average of 14 per cent, helping customers get closer to their 5-a-day.
M&S will reformulate further products to increase fruit and vegetable content, and continue to expand their product range to help increase customers' 5-a-day.
Sainsbury's will offer seven different 80g fruit bags as part of their £3 meal deal promotion to help customers eat more fruit at lunchtime, as well as encouraging all customers to eat more fruit and vegetables with new product development and further promotional activity.
Tesco will launch new, healthy ranges that include a minimum of one portion of fruit and vegetables, such as Eat, Live, Enjoy range; include fruit snack packs in meal deals; introduce new brands into their canned vegetable range; and move frozen fruit into their dessert section.
Waitrose is training hundreds of staff to become fruit and vegetable specialists and advisors - to boost its fresh produce offering in store and give tailored advice to customers.
3663 will encourage their customers to procure more products suitable for 5-a-day through a variety of price promotions, as well as publishing a new Health and Wellbeing brochure promoting fruit and vegetables and labelling their own brand products as suitable for 5-a-day.
Published 15 November 2012