Press release
Businesses get creative with consumer data at the 'midata' Innovation Lab launch
Businesses have taken up the challenge to create new digital apps using real consumer data as the 'midata' Innovation Lab is now open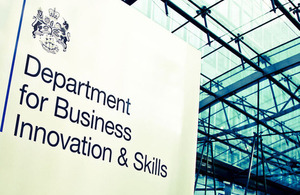 Leading businesses have taken up the challenge to create new digital apps using real consumer data as the 'midata' Innovation Lab is now open, announced Consumer Minister Jo Swinson.
For the first time the lab is collecting real customer data from 1,000 volunteer consumers, and is inviting businesses to access a computer enabled lab with the help of business and the Open Data Institute. So far 'midata', has been working with industry to make sure that consumers can access their data – from utility to phone bills – in an accessible format. The lab is taking this one step forward and has created a unique environment where businesses and expert organisations work collaboratively together to learn how to empower and protect consumers as well as looking at ways to unlock the innovation that will use this data to create apps. Businesses that have signed up to use the Lab so far include Telefonica, BBC, Moneysupermarket.com, npower, Grapple and Which?.
Consumer Affairs Minister Jo Swinson said:
Today's most successful businesses are the ones that are creative about building customer relationships. The new 'midata' Lab is an exciting opportunity to put this to the test and explore how businesses could help customers use the data around their spending habits to make better choices.
There is a lot to be gained from being open and using the information gathered on customers with their knowledge. Developing new and innovative ways to see data also helps improve customer service which will in turn promote growth. I would encourage businesses and developers alike to take advantage of this opportunity and establish themselves as a market leader in the digital market.
The relationship between businesses and their customers has evolved to being more than simply buying products. With the popularity of loyalty cards, comparison sites and mobile applications, businesses are increasingly helping consumers manage their lives. 'midata' is working to ensure that people are able to request their personal data from businesses in a useful format to allow them to manage their money better and make informed lifestyle choices.
So far 'midata' has made significant progress as a voluntary measure, with more than 20 leading businesses in the energy, finance and telecoms sectors signing up.
Professor Sir Nigel Shadbolt, Chair of the Midata Programme said
In the Digital Age the information that we generate as we go about daily life is a source of huge potential value. Midata can be used to find the best deal, or else get together with people who have similar interests and needs, or simply enable us to make better decisions as consumers. Business is set to provide innovative products and solutions in this new area. The midata Innovation Lab will provide a great environment in which all stakeholders will be able to explore new services, new products and new opportunities in the emerging world of personal information assets.
Alistair Crane, CEO Grapple said:
Through our work as the strategic mobile partner to major retailers and financial services institutions, we know that there is an appetite from consumers for applications that help them better manage their money.
We are excited to be founding partners in the midata Innovation Lab, helping shape the way consumers, businesses and the wider economy can benefit from the emerging consumer data ecosystem.
Andy Day, General Manager of Business Intelligence at Telefonica UK, said:
We are pleased to support the midata Innovation Lab, because it will create practical and real life examples of how digital technology can help consumers generate value from their data.
We put our customers in control, allowing them to make informed choices about how their data may be used to help them lead easier and more sustainable lives. The Innovation Lab brings this to life in a powerful way and demonstrates how business innovation can deliver strong consumer benefits.
Martin Lewis, creator of MoneySavingExpert.com
Midata has the potential to be a consumer blockbuster. Yet the real challenge is to make it work. This is a welcome practical first step to see if that's possible.
Currently when it comes to finding the cheapest mobile deal, energy bill or bank account – many people struggle to know their exact tariff name – let alone a detailed analysis of their usage.
A rose tinted crystal ball would show that with Midata, people will be able to press a button, and their entire usage history is flung to a independent website or agent who'll interrogate it and show them their most competitive provider – cutting out all the guess work and diluting the impact of marketing and spin.
In the future people could benefit from a range of applications made possible by accessing and sharing data held on them by businesses, for example by:
viewing their data in a simple way to see which energy or mobile tariff suits them better
comparing the prices, or looking at the health benefits of their food consumption, through accessing data relating to their food shop
keeping up to date via one application with the latest films, music or shows released, tailored to their previous buying choices and personal taste
energy companies printing QR codes on their bills containing all the information on a customer's tariff, usage patterns and supplier details. When scanned with a smartphone it could feed into an app that helps consumers instantly work out the cheapest tariff for them based on their energy usage
Businesses and developers that want to get involved with the 'midata' Innovation Lab can do so by contacting midata@bis.gsi.gov.uk
Notes to Editors
1.The midata Innovation Lab website is http://www.midatalab.org.uk/
2.In April the government took a power to enable regulations to require companies to release data they hold relating to a consumer's consumption or transaction data in a portable, machine readable format, upon request.
3.The power is focussed on four 'core' sectors: current accounts, credit cards, and the mobile phone and energy sectors. The power can be applied more widely subject to meeting certain conditions set out in the legislation.
4.'midata' was developed by BIS using insights and evidence from the government's Behaviour Insights Team in the Cabinet Office. The 'midata' programme has been chaired by Professor Sir Nigel Shadbolt from April 2011. A list of the businesses who signed up to the 'midata' vision in November 2011 can be found here: https://www.gov.uk/government/news/the-midata-vision-of-consumer-empowerment
5.The 'midata' Innovation Lab (mIL) is part of the broader 'midata' voluntary programme. It is a unique collaborative partnership between government, authoritative bodies, leading UK businesses and the developer community. Its aim is to develop an environment that will enable participants to both learn how to empower and protect consumers whilst building data driven innovative services.
6.The mIL has been speedily created through the initial collaboration of a number of organisations, particularly:
Allfiled
Atlantic customer solutions
BIS
Ctrl-Shift
GfK
Grapple
Open Data Institute
Telefonica
7.Other Founding Partners who helped form the 'midata' Innovation Lab and define its workstreams include:
Aimia (Nectar)
BBC
Cognesia
ICO
IRM
Moneysupermarket.com
Mydex
Ofgem
Paoga
University of Southampton
UCL
Verizon
Which?
npower
8.The government's economic policy objective is to achieve 'strong, sustainable and balanced growth that is more evenly shared across the country and between industries'. It set four ambitions in the 'Plan for Growth', published at Budget 2011:
to create the most competitive tax system in the G20
to make the UK the best place in Europe to start, finance and grow a business
to encourage investment and exports as a route to a more balanced economy
to create a more educated workforce that is the most flexible in Europe.
Work is underway across government to achieve these ambitions, including progress on more than 250 measures as part of the Growth Review. Developing an Industrial Strategy gives new impetus to this work by providing businesses, investors and the public with more clarity about the long-term direction in which the government wants the economy to travel.
Published 10 July 2013