The midata vision of consumer empowerment
The Government has announced a ground-breaking partnership with 26 organisations to deliver a new era of consumer empowerment.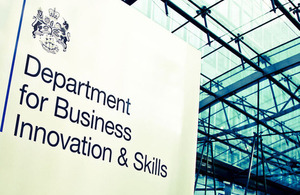 The businesses, consumer bodies and regulators involved are all committed to working with Government to achieve its vision for midata, launched today. And all are endorsing the key principle that data should be released back to consumers.
midata is a voluntary programme the Government is undertaking with industry, which over time will give consumers increasing access to their personal data in a portable, electronic format.
Individuals will then be able to use this data to gain insights into their own behaviour, make more informed choices about products and services, and manage their lives more efficiently.
Today's announcement marks the first time globally there has been such a Government-backed initiative to empower individuals with so much control over the use of their own data.
Launching the midata vision, Consumer Affairs Minister, Edward Davey said:
"This is the way the world is going and the UK is currently leading the charge. We see a real opportunity here, but others, including the US and EU, are also showing real interest in the programme and the economic benefits it can deliver.
"So if we want to continue leading the way, we need to develop a platform upon which the innovation and services that drive growth can be built. midata aims to do just that."
Read Edward Davey's blog on the launch of midata
midata
The overall aim of midata is to benefit the economy, by stimulating innovation and growth, as well as companies and consumers:
For the economy - midata will encourage sustainable economic growth by boosting competition between companies in terms of value and service, and driving innovation.
For business - midata will create opportunities for businesses through improved dialogue with consumers and increased trust, and the opportunity to provide innovative new personal information services and tools.
For consumers - midata will allow consumers to access their data in a safe and secure way and make better decisions reflecting their personal wants and needs. New services made possible by midata will further assist consumers, whether it be in getting the best deal on their mobile phone contract or energy tariff, or managing their lives more efficiently.
Who is involved
Businesses and organisations that have so far committed to working in partnership with Government to achieve the midata vision are:
AMEE
Avoco Secure
billmonitor
British Gas
Callcredit
EDF Energy
E.ON
Garlik
Google
Lloyds Banking Group
MasterCard
Moneysupermarket.com
Mydex
npower
RBS
Scottish Power
Scottish Southern Energy
The UK Cards Association
Three
Visa
The following consumer groups and regulators are working with midata to represent consumers' interests and concerns. As well as working towards potential benefits, their input plays an important role in identifying potential risks and helping determine how these can be addressed:
Citizens Advice
Communications Consumer Panel
Consumer Focus
Information Commissioner's Office (ICO)
OFCOM
Office of Fair Trading (OFT)
Which?
Links
Published 3 November 2011