Press release
Business Secretary fast tracks investigation into BHS administration
Business Secretary Sajid Javid has instructed the Insolvency Service to fast-track its investigation into BHS.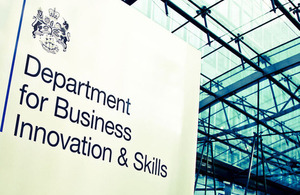 An immediate investigation into the circumstances surrounding BHS going into administration has been ordered today (3 May 2016) by the Business Secretary Sajid Javid.
Mr Javid has instructed the Insolvency Service to fast-track its investigation, which will also specifically consider the extent to which the conduct of the directors of BHS led to its insolvency.
He has asked that the investigation look at not only the conduct of the directors at the point of its insolvency, but also of any individuals who were previously directors and whether their actions may have caused detriment to its creditors – this includes detriment to any employees who are owed money. They will also look at the pension protection fund.
Business Secretary Sajid Javid said:
I have asked the Insolvency Service to bring forward its investigation rather than wait 3 months for the administrators to report before launching their inquiry. This investigation will look at the conduct of the directors at the time of insolvency and any individuals who were previously directors. Any issues of misconduct will be taken very seriously.
The Insolvency Service would normally wait for the conclusion of the administrator's final report before commencing any investigation into a company entering administration. However, given the unique circumstances surrounding the BHS case, the Business Secretary has instructed the Insolvency Service to commence the investigation as soon as possible.
Should the investigation conclude that one or more present or former directors have been involved in any misconduct, an application may be made to a court to ask that they be disqualified from acting as a director for a period between 2 and 15 years depending on the nature of their misconduct.
Where conduct for which a person was disqualified took place subsequent to 1 October 2015 and caused a loss to creditors, an application could also be made to a court for an order that compensation be made for losses incurred.
Notes to Editors
Investigations under s7 Company Directors Disqualification Act are not published and it is not possible to provide public updates during the investigation.
In the event that a disqualification order was made against one or more directors the order, and the facts which supported it, would be made public.
The Insolvency Service administers the insolvency regime, investigating all compulsory liquidations and individual insolvencies (bankruptcies) through the Official Receiver to establish why they became insolvent. It may also use powers under the Companies Act 1985 to conduct confidential fact-finding investigations into the activities of live limited companies in the UK.
Its company investigations team investigate companies after formal insolvency proceedings, when it is in the public interest and where it receives information that suggests that a director's conduct (in 1 or more companies) makes that director unfit to be concerned in a company's management.
In cases where the Insolvency Service receives information to suggest corporate abuse, its company investigation teams also have the power to conduct confidential investigations into limited companies and limited liability partnerships which are actively trading, or which have ceased trading without entering into insolvency proceedings. If it is appropriate, they may apply to the court for a company to be wound up.
The Insolvency Service is not a prosecuting authority; where it receives information suggesting a criminal offence or other regulatory misconduct may have occurred then the matter may be referred to the relevant prosecuting or regulatory body where it is appropriate to do so.
Published 3 May 2016