News story
Business and Energy Secretary discusses closer research and development ties with French ministers
Business and Energy Secretary Greg Clark has met with French ministers to discuss our approach to shared challenges.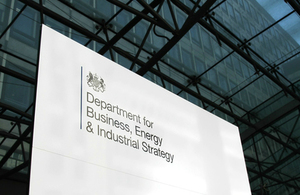 countries committed to working more closely on research and innovation across sectors including artificial intelligence, space and climate change
Energy Minister Richard Harrington also signed agreement for the 2 countries to work more closely on civil nuclear decommissioning
Business and Energy Secretary Greg Clark met with French ministers Brune Poirson, Secretary of State for the Ecological and Solidarity-based Transition, and Delphine Gény-Stephann, Secretary of State for Economy and Finance, during the UK-France Summit to promote the UK's ambitious Industrial Strategy. He underlined how closer collaboration between the 2 countries will lead to better research outcomes, using our shared distinctive strengths to meet the Grand Challenges set out in the government's Industrial Strategy.
Innovation is at the heart of the government's Industrial Strategy, and the Business and Energy Secretary highlighted the importance of sharing knowledge and resources in order to meet the shared economic and environmental challenges facing the 2 countries.
After the meeting, Business and Energy Secretary Greg Clark said:
Innovation and collaboration with our international partners are at the heart of our modern Industrial Strategy. If we are to seize the opportunities and meet the challenges of the future, we need to work closely with countries that share our ambition.

France is the UK's third largest trading partner and we want to take advantage of all possible opportunities as we move towards our highly productive, low-carbon economies of the future.
It was agreed the 2 countries will increase research links. This will include deeper collaboration between UK Catapults and French Instituts Carnot. It was confirmed during the meeting that a digital conference will be held in 2018, gathering experts from both countries on digital security, skills, artificial intelligence, data and digital government.
The Business and Energy Secretary also announced a Researcher Mobility Fund worth almost £90,000 a year to help forge further research links between the UK and France and encouraging further collaboration between researchers in both countries.
The UK and French space agencies signed a declaration of intent at the meeting, with both committing to closer working and leadership in areas, including:
autonomous navigation to support the search for life on Mars: the UK Space Agency and CNES – the French equivalent – are involved in the ExoMars mission that will use a rover that can move over the surface of the red planet and a satellite in orbit above it
climate science and space systems to support the development of a Space Climate Observatory: this could improve the analysis of key climate variables and support for developing countries, while placing UK and French industries at the centre of the growing, multi-billion pound Climate Services market
support of satellite telecommunications services for disaster-hit regions of the Caribbean
The 2 countries also committed to close working and leadership in a number of other areas, particularly looking at meeting the Clean Growth and Future of Mobility Grand Challenges set out in the Industrial Strategy. These include:
discussion on the formation a new bilateral group bringing together policy and research experts on zero-emission vehicles in order to help meet the commitment of both countries to end the sale of new conventional petrol and diesel cars by 2040
agreement that the UK and France will work bilaterally to identify potential areas of collaboration on smart energy innovation; this will help both economies seize the opportunities presented by the move towards electric vehicles and a fully smart energy system, while creating new business opportunities for UK and French companies in a multi-billion dollar international market
In conjunction with the Summit, UK Energy Minister Richard Harrington co-chaired a seminar on civil nuclear energy with Brune Poirson, France's Minister of State in the Ministry for the Ecological and Inclusive Transition.
The seminar bought together senior government and industry figures from the UK and France to discuss issues of mutual interest and promote bilateral collaboration, with a particular focus on nuclear decommissioning and waste management, R&D, and skills.
Both ministers signed a declaration of intent to signify their support for greater collaboration in decommissioning and waste management.
Published 18 January 2018