Press release
Bure Marshes restoration receives Heritage Lottery Fund grant
Restoration of wetlands at Bure Marshes National Nature Reserve (NNR) is a step closer thanks to a grant from the Heritage Lottery Fund.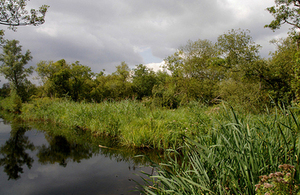 Thanks to a grant of almost £69,000 from the Heritage Lottery Fund, Natural England and its partners are a step closer to restoring the wetlands of Bure Marshes National Nature Reserve (NNR) in the Norfolk Broads, back to their former glory.
The funding will be used to further develop the Hoveton Wetlands restoration project, which aims to restore two shallow lakes (broads) situated in Bure Marshes NNR.
Hoveton Great Broad and Hudsons Bay, along with an extensive network of dykes, are all currently in a poor condition. Nutrient rich sediment, deposited over the last century, has created shallow, turbid and algal dominated conditions leading to a loss of plant and aquatic wildlife.
Natural England is hoping to undertake works to improve water quality, providing an opportunity for the wetlands to return to their previous wildlife-rich state.
A comprehensive package of restoration techniques is proposed, including an innovative technique that pumps sediment into sausage-like geotextile tubes to create new fen habitat. This technology was pioneered locally by the Broads Authority who have already used it to create fen habitat at nearby Salhouse Broad.
As part of the development of the project, the Environment Agency has already undertaken extensive fish surveys of the lakes and University College London are completing a detailed study of the lakes' seed bank.
The project will also create new opportunities to view this part of the Broads without compromising the valued peace and tranquillity enjoyed by visitors. A canoe access route will be established and increased educational opportunities for children and adults will be created through an improved outreach programme and externally-accessible media.
Natural England's area manager for Norfolk and Suffolk, Pamela Abbott, said:
With help from the Heritage Lottery Fund, this is an important step forward in the Hoveton Wetlands restoration project.

If successful, the project is expected to transform the lakes and dykes, returning them to a clear water state with an abundance and diversity of water plants, some of which have not been seen in these broads for over 40 years. These in turn would support a whole variety of animals, particularly waterfowl and dragonflies.
Subject to planning permission and further funding, restoration works will be carried out over 5 years, between 2016 and 2021.
ends
For further information (media enquiries only) please contact:
Alexa MacBryde, Natural England press office: 07919 165142 alexa.macbryde@naturalengland.org.uk
Background information
About the Heritage Lottery Fund
Using money raised through the National Lottery, the HLF aims to make a lasting difference for heritage, people and communities across the UK and help build a resilient heritage economy. From museums, parks and historic places to archaeology, natural environment and cultural traditions, we invest in every part of our diverse heritage. HLF has supported 36,000 projects with £6 billion across the UK
For more information please contact Katie Owen, HLF Press Office, on 020 7591 6036/07973 613820.
Natural England
Natural England is the government's adviser on the natural environment. Established in 2006 our work is focused on enhancing England's wildlife and landscapes and maximising the benefits they bring to the public. England's 224 NNRs form part of a UK-wide network of nature reserves covering England, Scotland, Wales and Northern Ireland. Natural England manages 143 of these NNRs to ensure that our finest wildlife and geological sites are protected, conserved and enhanced for present and future generations. From Lindisfarne in Northumberland to The Lizard in Cornwall, and from the Suffolk Coast in East Anglia to The Stiperstones in Shropshire – NNRs are the very best places to experience the natural world at first hand.
The Norfolk Broads
The Norfolk Broads takes its name from the shallow lakes - 'broads' - originally medieval peat workings that became flooded around the 14th century. Initially, the broads and rivers provided the main communication and goods transportation network. More recently, their function has moved increasingly towards recreation and the transportation of people. The beauty, history and wildlife of The Broads have captured the imagination of many nature lovers, scientists, holiday makers, poets, writers and artists. Today the area is a popular boating, fishing and wildlife-spotting destination and its characteristic landscape of open water, fen, wet woodland and grazing marshes attracts 7 million visitors annually.
Bure Marshes NNR
The project area is located within the north west part of Bure Marshes National Nature Reserve (NNR), between Hoveton and Ranworth. Bure Marshes was one of the first NNRs (1958) to be designated in the Broads and is a component of Bure Broads & Marshes Site of Special Scientific Interest, part of The Broads Special Area of Conservation for its wetland habitats and species, and Broadland Special Protection Area for its birds as well as being an internationally important Ramsar wetland. The project also sits within the Bure Valley Living Landscape area which has been highlighted as a biodiversity hotspot in a recent Broads biodiversity audit.
Naturalists' records for the NNR date back to the 19th century and ecological recording has been intensive since 1958. Flora and fauna are particularly well-documented along with regular long term monitoring of butterflies, moths, birds, aquatic vegetation, fen and wet woodland vegetation, as well as more targeted datasets addressing particular ecological questions, including the effects of conservation management. Consequently, the species lists are long; 68 Red Data Book invertebrates and many other rare and local species, including bittern, marsh harrier and swallowtail butterfly. The NNR is also part of long-term monitoring networks that monitors climate change effects on biodiversity. Since 1969 the NNR has provided a nature trail that is accessed by by pleasure boat or ferry from a nearby visitor facility. The trail provides free access to some of the best wet woodland habitat in Europe and allows people to see Hoveton Great Broad, which is otherwise not accessible to the public. Hides provide visitors with excellent views of the breeding common tern colony whilst other viewing platforms along the trail offer the chance of spotting aquatic animals such as otters, water voles and grass snakes.
Published 31 October 2014