Building business links in East Asia
Opportunities for British businesses in Korea, Japan and China highlight the importance of the UK's trade relations with the region.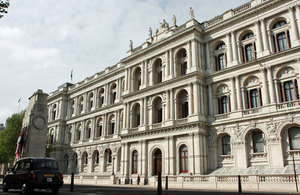 Business Secretary visit to Korea and Japan
In a visit to Korea and Japan, Business Secretary Dr Cable met companies investing in the UK, as well as British businesses based in the two countries.
Dr Cable's visit to Japan has particular resonance in the aftermath of the triple disaster that hit Japan on 11 March. However, he underlined that the earthquake has not affected the UK's commitment to Japan, nor its confidence in its Japanese partners.
In Korea, Dr Cable met with Government ministers and UK companies that are successfully trading in Korea, and saw the many trade opportunities that will be made available to UK firms once the EU - Korea Free Trade Agreement comes into force this July.
Writing about the visit to Korea, British Ambassador to the Republic of Korea, Martin Uden emphasised that Korean companies are keen to expand into the European market and the UK is consistently their first choice.
Tom Burn, the FCO's media and communications Director in Tokyo also writes that Japan should still be on the radar of British businesses that want to succeed in East Asia.
Export success in China
In London, UK companies met on 1 June at a specially targeted SME CEO forum to consider how small and medium-sized enterprises can find export success in China.
Speaking at the event, Minister for Trade & Investment, Lord Green, said:
"China's staggering pace of growth is creating a wealth of opportunities for UK firms. From high-value infrastructure projects to the growth in demand for low carbon goods and services, UK firms, especially SMEs, are well placed to provide cutting edge expertise.
"Over 99 per cent of the UK's 4.8 million businesses are SMEs, yet at present, only 20 per cent are exporters. We believe there is scope to increase that figure considerably and that is why UKTI is committed to supporting SMEs in key markets such as China."
Supporting British business overseas
In this video, Trade & Investment Minister Lord Green talks with President of the CBI, Helen Alexander, about how the Foreign Office can support British businesses looking to export to emerging markets.
Supporting British business overseas
Published 1 June 2011