Press release
Build to Rent to offer greater choice for tenants
From:

Part of:

Published:

5 March 2014
This was published under the 2010 to 2015 Conservative and Liberal Democrat coalition government
Tenants are to get a greater choice of newly-built homes to rent under announced plans.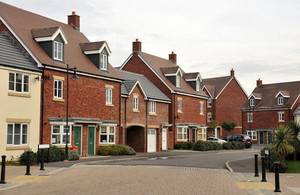 Tenants are to get a greater choice of newly-built homes to rent under plans announced today (5 March 2014).
Housing Minister Kris Hopkins published a shortlist of developments in areas including London, Manchester, Liverpool and Kirklees, which could benefit from a share of the £1 billion Build to Rent Fund to deliver homes specifically for private rent.
Up to 6,500 homes will be built using this additional funding - meaning the government is well on track to have work underway by 2015 to deliver up to 10,000 newly built homes for private rent.
Building to Rent
The Build to Rent fund is designed to help developers build large scale, quality homes specifically for the private rented sector. By demonstrating the viability of the large-scale market the government is laying the foundations for future private investment in the sector.
Through round 1 of the scheme, 18 projects are either in the final stage of due diligence or contracting stage, with around half of these projects in London but also in places including Durham, Liverpool and Birmingham.
Construction has also already started on 2 Build to Rent developments in Southampton and Manchester.
The 36 projects on today's shortlist from round 2 will also now go through this due diligence process, with successful bids receiving funding to deliver new homes. They include:
Housing Capital Trust - who plan to build over 500 homes for rent in Manchester
Stanley Dock Properties - who plan to build over 100 homes for rent in Liverpool
Imperial West - who plan to build 192 homes for private rent in Hammersmith and Fulham
Development Securities - who plan to build nearly 350 homes for rent across Brent, Greenwich and Redbridge
Around 80% of the projects listed are in London - reflecting the demand for good quality, private rented accommodation in the Capital.
Housing Minister Kris Hopkins said:
The private rented sector offers a flexible option to millions of people looking to rent good quality homes. The Build to Rent fund will give tenants far more choice over where they live and raise the standard of the properties on offer.

So I'm pleased that so many developers have applied for a share of our £1 billion fund, and that we are well on track to have work underway by 2015 on 10,000 new homes specifically for private rent.
The Mayor of London, Boris Johnson, said:
With a soaring population and unprecedented demand for new homes in the capital we have set the most ambitious targets in the GLA's history to help provide the homes hard working Londoners need. The private rented sector has a huge part to play in this. Boosting the supply of good quality well-designed homes to rent will lead to a more balanced rental market, improved services for tenants, and helps bring forward new development, while stimulating economic growth in the capital.
Margaret Allen, Interim Executive Director for Programmes and Recoverable Investment at the Homes and Communities Agency said:
The volume and quality of bids we have received for round 2 of Build to Rent Programme is encouraging. We are looking forward to working with our partners and the shortlisted bidders to take the submissions through the due diligence process and to support the delivery of the successful bids.
Further information
The Build to Rent fund has been developed to support purpose built, private rented accommodation across England which have the potential to attract investors.
The fund is being administered by the Homes and Communities Agency, which is the single, national housing and regeneration delivery agency for England and the regulator of social housing providers.
The Greater London Authority is leading on the assessment of London bids.
The bids listed will go through a competitive clarification process, which will include meeting with the Homes and Communities Agency, to refine project details before a final decision is made to progress to full due diligence.
See the list of projects:
MS Excel Spreadsheet, 60.3KB
This file may not be suitable for users of assistive technology. Request an accessible format.
If you use assistive technology (such as a screen reader) and need a version of this document in a more accessible format, please email alternativeformats@communities.gsi.gov.uk. Please tell us what format you need. It will help us if you say what assistive technology you use.
Office address and general enquiries
2 Marsham Street
London
SW1P 4DF
Contact form http://forms.communiti...
General enquiries: please use this number if you are a member of the public 030 3444 0000