Press release
Budget measures will deliver thousands of homes and jobs
Hundreds of thousands of homes and jobs will be delivered through a package of measures announced in today's Budget.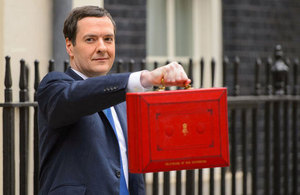 Communities Secretary Eric Pickles said the funding contained in the Chancellor's statement will maintain the momentum gathered since 2010, which has seen housebuilding reach its highest annual level in seven years, planning permissions reach record numbers and thousands of jobs created.
A new Help to Buy ISA will help aspiring homeowners to save for a deposit on their first home with contributions from the government.
Twenty areas across the country have been selected as the first Housing Zones, with government plans to work with a further 8 councils – helping to deliver up to 45,000 new homes on brownfield land.
And 10 new and expanded enterprise zones will be created from Blackpool to Plymouth, to create thousands of jobs over the next few years.
But there were also plans to support locally-led plans for 2 more locally-led Garden Communities at Basingstoke and North Northants, to devolve greater responsibility for employment, skills and transport to West Yorkshire, and to deliver thousands more affordable homes across the country.
Communities Secretary Eric Pickles said:
Since 2010 we've pulled out all the stops to ensure the benefits of our long-term economic plan are felt right across the country.

The measures in today's Budget will ensure this continues, delivering hundreds of thousands of new homes and jobs, while maintaining strong Green Belt protections.
Housing and Planning Minister Brandon Lewis said:
The 2008 housing crash led to the lowest levels of housebuilding for any peacetime year since the 1920s – over the past 5 years we've got the country building again with planning permission granted on 253,000 new homes in the last year alone.

Today's Budget measures will go further, and deliver hundreds of thousands of new homes across the country, working with communities to ensure they continue to have a strong say over how their local area develops.
Further information
Over 204,000 households have bought or reserved a new home through government-backed schemes in the last 5 years.
A new Help to Buy ISA will help even more people to get their first foothold on the property ladder, with government contributions for those saving up that much-needed deposit.
The ISA will be available from Autumn, and will mean that for every £200 someone saves through the scheme, the government will contribute £50 – an effective tax cut for first-time buyers.
Today's measures also include:
Making the best use of brownfield land
Since 2010 the government has taken steps to ensure brownfield land is prioritised for new housing development, including the abolition of top-down regional strategies that included plans to develop on green belt land.
The 20 areas announced today as the first Housing Zones, together with 8 areas the government will work with to develop their plans, will help deliver up to 45,000 homes on brownfield land.
Those 20 areas announced today are:
Thurrock Thames-Side Towns (Thurrock Council)
Elstree Way Corridor (Hertsmere Borough Council)
Slyfield Area Regeneration Project (Guildford Borough Council)
Greater Gainsborough Housing Zone (West Lindsey District Council)
Stoke City Centre Renaissance (Stoke City Council)
Derby City Housing Zone (Derby City Council)
Gedling Colliery (Gedling Borough Council)
Harworth, North Nottinghamshire (Bassetlaw District Council)
Aire River Growth Corridor (Wakefield Metropolitan District Council)
York Central Housing Zone (City of York Council)
Exemplar Neighbourhood (Gateshead Council)
Preston Housing Zone (Preston City Council)
South Bristol HZ (Bristol City Council)
Whitehill and Bordon (East Hampshire District Council)
Weston Super Mare (North Somerset Council)
Ashchurch (Tewkesbury Borough Council)
Hinkley Housing Zone (Sedgemoor District Council)
Former Powerstation Site, Poole (Borough of Poole Council)
Foxhill (Bath and North East Somerset Council)
Gloucester City Growth Zone (Gloucester City Council)
Designation as a Housing Zone means these areas will be able to benefit from a share of up to £200 million recoverable investment from government, cheaper borrowing from the Public Works Loan Board, and priority access to expert planning and technical support from the ATLAS service run by the Homes and Communities Agency.
Today's Budget also included plans to launch 2 new enterprise zones while extending several more of the thriving business hubs.
Both Blackpool and Plymouth are in line to become the latest places to benefit from the top-class business incentives and world-class infrastructure that enterprise zones bring to their local economies and communities.
The government is also looking to add 2 new sites to the Discovery Park Enterprise Zone in Kent, while extensions have been rubberstamped for MIRA Technology Park in the Midlands, Tees, Humber, Leeds, Mersey Waters, Manchester and Oxford.
The enterprise zones estimate that over their 25-year lifespan these measures could deliver an extra 4.6 million square metres of state-of-the-art workspace – the equivalent of 644 Wembley football pitches – and provide space for thousands of more jobs.
Helping homeowners and tenants
Help is available for those who have already bought through shared ownership schemes, but who can often face delays when they come to resell, as they have to offer their housing association the choice whether to buy the property back.
Today the government confirmed plans to simplify and speed up the process for the resale of shared ownership properties, by removing the right of first refusal for housing providers – known as the pre-emption right – where someone has managed to purchase the full 100% share to buy their property outright.
There were also measures for people renting: the government's model tenancy agreement gives tenants in the private rented sector the chance to ask for longer tenancies if they choose to. This agreement will now be amended to enable landlords to give reasonable consideration to requests from their tenants to sublet their properties, to give those renting privately greater flexibility.
Building new homes with local support
Today (18 March 2015), the Chancellor announced a new devolution deal for West Yorkshire, which will give councils greater responsibility for developing local skills, transport and employment opportunities as well as delivering up to 7,000-10,000 new homes a year over a 5 year period.
The government has also confirmed it has laid a draft Legislative Reform Order which, if approved by parliament and made, will give local authorities greater flexibility to join a combined authority or economic prosperity. This would give opportunities for other authorities, if this is what is wanted locally, to join the West Yorkshire or other combined authorities. And councils in Greater Manchester and Cambridge will be able to keep 100% of the growth in business rates revenues generated in those areas.
On top of this work is progressing to create the first locally-led garden city for nearly 100 years at Ebbsfleet in Kent. Today the Secretary of State announced his intention to make 5 appointments to the board of the Ebbsfleet Urban Development Corporation.
They are:
David Holt (Deputy Chairman)
Louise Hardy
Bob Lane OBE
David Lock CBE
Katie Perrior
The Homes and Communities Agency will also bring forward their site at Northfleet for marketing, so it will be available for housebuilders to buy and develop homes for the garden city.
Bicester is set to be the next locally-led garden town to be developed, with £1.7 million being allocated to support councils in the area to develop further plans to improve key infrastructure including roads leading to sites suitable for new homes.
The government also announced funding for Basingstoke and North Northants, who will now develop their proposals for new locally-led garden towns in those areas.
Getting work started on new homes on large sites
The government will lead on getting work started on 10,000 homes at Northstowe near Cambridge, by directly commissioning builders to get building. It's expected that of the homes expected to be started by 2020, three quarters – 600 homes – will have been directly commissioned.
The government will also invest £95 million in the regeneration of Brent Cross to help deliver 7,500 homes, 4.9 million square feet of commercial space and up to 27,000 jobs. The development of the area, led by Barnet Council and the Greater London Authority, will be further supported by ringfencing 50% of the business rate growth in that area for investing in the project.
Delivering affordable homes across the country
Since 2010 nearly 217,000 new affordable homes have been delivered in England. The government's Affordable Homes programme has levered in £19.5 billion public and private investment, while plans to build a further 275,000 affordable homes between 2015 and 2020 will lead to the fastest rate of affordable housebuilding for 2 decades.
The government will also consult on plans to work with developers to build up to 1,000 low rent homes in the private rented sector for homeless families, to avoid them facing time in temporary accommodation. And a new study will examine whether the government's estates regeneration programme could provide additional support to communities in the Midlands, to help regenerate some of the largest housing estates in the area and identify approaches that could be applied elsewhere.
Support for firefighters' families
Today's Budget also includes measures to ensure the families of firefighters who die in active service are not forgotten.
Changes to the rules will ensure that the spouse of a firefighter who dies in action will continue to receive their pension if they choose to remarry – something that isn't possible under current regulations for firefighters who joined the service before 2006.
Similar changes are being announced for the police and bring both workforces more into line with changes announced in the autumn for the armed forces.
A boost to community pubs from cuts in duty
Industry estimates suggest that cuts to beer duty over the last 2 years have helped create 16,000 jobs around the country.
Today, the Chancellor announced that beer duties will be cut for the third year in a row – taking a penny of a pint.
Duties on cider and spirits will also be cut by two per cent while wine duty will be frozen.
Office address and general enquiries
2 Marsham Street
London
SW1P 4DF
Contact form http://forms.communiti...
General enquiries: please use this number if you are a member of the public 030 3444 0000
Published 18 March 2015