Broadgate Square now immune from listing
The Secretary of State has issued a Certificate of Immunity from Listing (COI) for a group of buildings associated with Broadgate Square.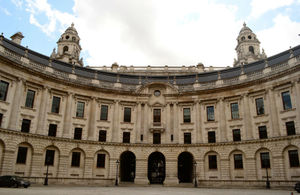 The Broadgate Estate is an extensive office development, situated close to Liverpool Street Station in London.  Broadgate belongs to a new wave of commercial developments that began to appear in London in the early 1980s.
The COI covers Nos. 1-2 and 8-12 Broadgate, No.100 Liverpool Street, the Octagon, Octagon Arcade and the sculpture 'Fulcrum', the Broadgate Circle, Broadgate Square with the sculpture 'Leaping Hare on Crescent and Bell' and the associated paving and landscaping.  
In reaching her decision, made after careful consideration of all the evidence, including English Heritage advice, Mrs Miller noted:
Broadgate is not of special historic interest beyond that of other commercial buildings of the 1980s';

Buildings embodying the 'Big Bang' and ensuing de-regulation of the 1980s are better represented by Docklands (especially Canary Wharf);

Buildings  4 and 6 have been demolished which has impacted on the interest of the complex as a whole, and

No new information about the buildings special interest has emerged since the previous decision not to list was made in June 2011. 
Commenting on her decision, Mrs Miller said: "Whilst I appreciate that the Broadgate Estate is a site known and liked by many Londoners, it is not believed that architecturally statutory listing is required. I am therefore happy to grant a Certificate of Immunity which will provide owners with certainty when making proposals about its future". 
Notes to Editors
This decision follows that of the previous Culture Secretary's Jeremy Hunt's ruling in 2011, when a COI was granted for buildings 3, 4 and 6 Broadgate.  In doing so the Secretary of State considered listing the entire complex but found it was not of special architectural or historic interest.  

More information on COI's can be found here. 

The COI can be viewed here.
Press Enquiries: 020 7211 2210
Out of hours telephone pager no: 07699 751153
Public Enquiries: 020 7211 6000
Published 17 January 2013