News story
British school teachers visit Jordan
Teachers from the UK travelled to Zaatari camp this week to visit staff and pupils affected by the Syria conflict.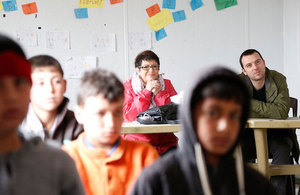 On the fourth anniversary of the start of the Syrian conflict, a group of British school teachers visited Jordan this week to support teachers and school children affected by the conflict.
The British Council organised the visit as part of the Connecting Classrooms programme.
15 teachers from UK schools joined 15 teachers from Jordanian and Lebanese schools with significant populations of Syrian refugee children.
The teachers visited Jordanian schools that host refugee children, and went on to visit a school in Zaatari refugee camp.
During the visit, the teachers exchanged pupils' work, compared their experiences of teaching in different contexts and discussed how to make effective use of Connecting Classrooms resources in their classrooms.
Deputy Head teacher at Rugby High School, Mark Grady said:
"It's been a fantastic opportunity to visit Zaatari and see the amazing teaching work that is going on here, despite the very challenging conditions.
"As teachers we've also learnt from being able to talk directly to the teachers and students here, and having the opportunity to meet with Jordanian, Lebanese and Syrian teachers face-to-face is invaluable.
"It will really help us develop our partnerships with schools across the region and increase British students' understanding of life in other parts of the world."
Picture gallery: British teachers visit Zaatari Camp
The partnership between British and Jordanian and Lebanese schools was announced the by the International Development Secretary, Justine Greening in 2013.
Since the start of the Syria crisis, the UK has committed £800 million, its largest ever response to a humanitarian crisis. This support includes food, medical care and relief items for over a million people including those affected by the fighting in Syria, as well as to refugees in Lebanon, Jordan, Turkey and Iraq.
By the end of September 2014, UK aid had:
delivered more than 8.7 million food rations, each of which feeds one person for one month
provided access to clean water for 1.5 million people per month
provided sanitation and hygiene services for over 950,000 people
provided more than 1.3 million medical consultations
given shelter and relief items to almost 230,000 people in Syria and the region.
Published 13 March 2015