Press release
UK boosts education for Syrian refugee children
British teachers form partnerships with Lebanese and Jordanian schools to provide support for Syrian refugee children.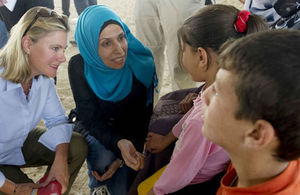 British secondary school pupils will help Syrian counterparts who are refugees affected by the crisis, through a twinning initiative announced today by International Development Secretary Justine Greening.
The scheme, run through the British Council, will partner UK schools with Lebanese and Jordanian schools teaching Syrian refugee children. British school children will get the chance to link up with refugee children and hear first-hand about the reality of life from those who have been affected by the situation in Syria.
Under the initiative, British teachers and educators will form partnerships with schools in the region and provide support to their counterparts on a range of issues such as:
specially tailored teaching and learning resources to show schoolchildren in the UK the impact of the Syria crisis;

Syrian, Lebanese and British children sharing their experiences through Skype and letter writing; and

opportunities for teachers to share ideas, lesson plans and to work on joint projects together.
The scheme will focus initially on schools in Lebanon, which currently hosts more than a quarter of a million Syrian refugee children, an even higher number than there are Lebanese children. The scheme plans to expand to other schools in Jordan and more widely across the region.
Justine Greening said:
"Syrian secondary school children should not miss out on an education because their country is at war. We must do all we can to prevent a lost generation of Syrian children, and I want to give their UK counterparts and teachers the chance to play their part in our support.
"Teachers in Syria's neighbouring countries are working tirelessly to ensure that everyone in their classroom has the chance to learn, no matter where they are from. But they are under tremendous pressure from cultural and language differences and the sheer weight of numbers of refugee children.
"This initiative will give British teachers and educators the chance to make a direct difference. It will also pave the way for British school children and Syrian refugee children to build friendships, share their experiences and gain a better understanding of the wider world they are all growing up in."
The initiative will build on the Connecting Classrooms programme that the British Council already runs, drawing on existing partnerships with 20 schools in Jordan and Lebanon. In particular, it will work with schools in Lebanon where 20-30 per cent of pupils are refugees, in order to identify areas where support is most needed. The UK is already working with partners in Lebanon to identify the particular needs of schools there and how best to respond to these.
Over the next two months, the British Council will run a recruitment drive to find new UK schools to partner with 16 Lebanese partner schools already looking for links with the UK. It will also prioritise UK-Lebanon/Jordan links for future school partnership application rounds (25 October 2013 and February 2014), with a focus on those schools in Lebanon and Jordan particularly affected by high numbers of refugee pupils.
Dr Jo Beall, Director Education and Society at the British Council, said:
"Our existing Connecting Classrooms programme gives us a great base from which UK schools can get a better understanding of how the Syria crisis is affecting schools and teachers across the region.
"School partnerships can impact significantly on pupils and teachers, and we want more schools in the UK to sign up and work alongside Lebanese schools to the benefit of young people in both countries."
Notes to editors
The UK has now committed £500 million to the humanitarian crisis in Syria, the largest total sum the UK has ever committed to a single crisis. It is providing support including food, medical care and relief items for over a million people in Syria and the region.
The British Council creates international opportunities for the people of the UK and other countries and builds trust between them worldwide. It is a Royal Charter charity, established as the UK's international organisation for educational opportunities and cultural relations. For more information, please visit: www.britishcouncil.org.
Connecting Classrooms is a global education programme for schools. It is designed to help young people learn about global issues and become responsible global citizens, as well as giving them the skills to work in a global economy. It offers school partnerships; professional development courses for teachers; accreditation; and the chance to share best practice with international counterparts.
General media queries
Follow the DFID Media office on Twitter - @DFID_Press
Published 10 October 2013