British Minister for Africa to visit Namibia and Angola
Minister for Africa looks forward to building on trade and business links during visit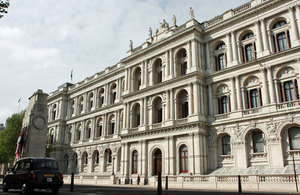 James Duddridge, the United Kingdom's Minister for Africa, will visit Namibia on 6 June and Angola on 7 and 8 June 2016. The visit will focus on bolstering bilateral relations and expanding trade links in the region. The Minister's visit to Angola will coincide with that of the UK Trade Envoy, Baroness Northover.
In Namibia Mr Duddridge will meet President Geingob and Prime Minister Kuugongelwa-Amadhila, Minister of Works and Transport Naruseb as well as Finance Minister Schlettwein. He will also meet Namibian business leaders and find out how UK investment can help boost the economy and infrastructure.
In Angola the Minister will meet Foreign Minister Chikoti and Minister of Finance Manuel as well as Minister for Justice and Human Rights Mangueira and Defence Minister Lourenço. Mr Duddridge will sign a Memorandum of Understanding to strengthen bilateral cooperation. He will also meet with business representatives and give the key note address at the British Embassy's Queen's Birthday Party celebrations.
Ahead of his visit Mr Duddridge said:
I am very much looking forward to visiting Namibia and Angola and to deepening and expanding the links between our countries. I am particularly interested in learning how we can increase trade and investment and I'm delighted that I will be joined in Angola by Baroness Northover, one of the growing number of UK Trade Envoys. Private investment and business is the lifeblood of every country, vital for creating jobs and generating the revenue that pays for essential services. The UK is ready to invest more in Africa and my visit will help that happen.
Further information
Follow the Foreign Office on twitter @foreignoffice
Follow the Foreign Office on facebook and Google+
Media enquiries
For journalists
Published 5 June 2016