Press release
British Minister for Africa to visit Democratic Republic of Congo
FCO Minister for the Middle East and Africa, Tobias Ellwood, will visit Goma in the Democratic Republic of Congo on 14 to 15 February.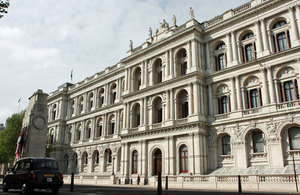 Speaking before the visit Mr Ellwood said:
I am delighted to be able to visit the Democratic Republic of Congo again. During my visit I hope to have the chance to better understand the current security and political situation in the country.

The UK remains a serious and committed partner of the DRC, as our half a billion dollar annual contribution shows. Part of that commitment involves direct assistance to the government through MONUSCO to end ongoing conflicts, where the primary responsibility for achieving this of course sits with the government.

But I will also be interested to see what progress has been made towards organising elections in 2017, including the implementation of the 31 December Agreement. The UK firmly believes that elections can always be organised where there is the will to do so, and that the greatest threat to DRC's stability will arise where the democratic aspirations of the Congolese people are not met.

I take this opportunity to again present my condolences to the Congolese people for the recent loss of opposition leader Etienne Tshisekedi, whom I met during my last visit. He was an inspiration to many Congolese, whatever their political inclinations. In this period of mourning, and suspension of talks pending the formation of a new government, it would not be appropriate to discuss in detail international support for elections but I hope to do so with the new government in due course.
Further information
Published 13 February 2017