News story
British horticulture praised by Environment Secretary
Environment Secretary visits RHS Chelsea Flower Show 2015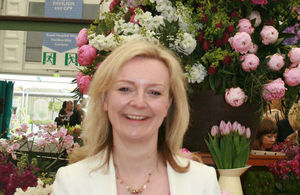 Plant and flower exports topped £65 million in 2014 and the industry contributes £10 billion a year to the UK economy, employing over 300,000 people from scientists to tree surgeons.
Visiting the Chelsea Flower Show in London today (18 May 2015) to celebrate the UK's booming horticulture trade, Environment Secretary Elizabeth Truss said:
"Britain has long been a world-leader in gardening and horticulture, combining tradition and innovation.
"The industry is vitally important to our economy. I want to see it grow, going from strength to strength, with more people at home and abroad enjoying top-quality British plants, bulbs and flowers.
"I was delighted to visit the RHS Chelsea Flower show and to see for myself this fantastic showcase for our horticulture industry."
Plant health is vital to the success of the industry and protecting plants from disease is one of Defra's key priorities. As part of her visit Elizabeth Truss toured the Animal and Plant Health Agency (APHA) 'Beyond our Borders' garden.
The garden is inspired by the Defra-funded International Plant Sentinel Network (IPSN), designed to identify new and emerging plant pests and diseases and assess their impact on native UK species.
The Government's robust approach to upholding the UK's biosecurity helps protect and support our growing horticultural industry.
Published 18 May 2015