Press release
British Defence Secretary Gavin Williamson visits Kuwait
British Defence Secretary visits Kuwait and calls on His Highness the Amir and senior Kuwaiti officials.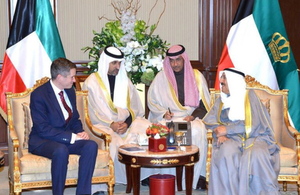 British Secretary of State for Defence Gavin Williamson visits Kuwait today, Wednesday 3 January 2018, for the first time since his appointment in November 2017. During his visit he called on His Highness the Amir Sheikh Sabah Al-Ahmed Al-Jaber Al-Sabah and the Prime Minister His Highness Sheikh Jaber Al-Mubarak Al-Hamad Al-Sabah. He also called on the First Deputy Prime Minister and Defence Minister Sheikh Nasser Sabah Al-Ahmed Al-Jaber Al-Sabah and congratulated him on his recent appointment.
This visit is an important opportunity to build on the excellent defence co-operation between the State of Kuwait and the United Kingdom as part of the close and cordial bilateral relations which exist between our two countries. The United Kingdom welcomes the important role which Kuwait is playing in the region. Kuwait is a key partner in the Counter-Daesh Coalition and a major humanitarian donor and as a mediator in regional disputes. Kuwait also joins the United Nations Security Council in 2018 to 2019.
Published 3 January 2018