Press release
Britain leads the way at crucial Syria conference and urges other countries to step up
Justine Greening announces a further £100 million to the UN's latest Syria crisis appeal at pledging conference in Kuwait.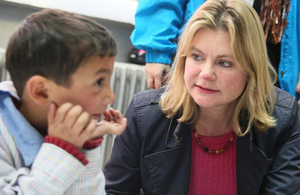 Britain has today pledged a further £100 million to the UN's latest Syria crisis appeal, the International Development Secretary Justine Greening has announced.
Speaking from Kuwait at the Second International Humanitarian Pledging Conference for Syria, Ms Greening said the UK's latest commitment reflected the deep concern of Britain towards the worsening plight of the Syrian people.
The unprecedented refugee crisis has meant that the UK has now committed over £600 million towards the Syria crisis, which is three times its response to any other humanitarian crisis. This new funding will help the UN meet critical humanitarian needs including schooling for Syrian children.
Justine Greening said:
"The scale of suffering that this crisis has caused is hard to exaggerate. Women and children are vulnerable to brutal violence and some have lost everything.
"This time last year the number of refugees in neighbouring countries was 515,000. Now it has reached 2.4 million. Meanwhile, we are hearing deeply concerning reports from inside Syria of people dying from malnutrition.
"The world cannot ignore what is happening to the Syrian people. Britain is determined to play its role in helping the 11 million Syrians who continue to suffer as a result of this crisis. As the situation grows worse the international community needs to make sure the UN has the resources it needs to help these people."
Notes to Editors
The Second Pledging Conference for Syria, jointly hosted by the Emir of Kuwait and Ban Ki-moon and held in Kuwait, aims to rally international financial support to meet the basic humanitarian needs of millions of Syrians. In January 2013, the First Pledging Conference for Syria saw 43 Member States pledge US$1.5 billion towards humanitarian efforts. Those funds were used to provide life-saving assistance for millions of people in Syria and surrounding countries, including emergency food rations, mobile medical care and vaccinations, clean water and sanitation, and basic shelter.
More information on the Second International Humanitarian Pledging Conference for Syria is available here.
In December, the UN launched an appeal for $6.5 billion to meet needs inside Syria and in the region for 2014, making it the largest humanitarian appeal in the organisation's history. But with over 11 million Syrians already in need of assistance and that number set to rise this year, so far international commitments have fallen well short.
The UK has now allocated over £600 million to help those affected by the conflict. This is the UK's largest ever response to a humanitarian crisis. It is providing food, medical care, shelter and relief items for over a million people including those affected by the fighting in Syria and to refugees in Lebanon, Jordan, Turkey, Egypt and Iraq.
Currently, half the pre-crisis Syrian population is in need: 9.3 million within Syria, and 2.4 million refugees in neighbouring countries. The UN predicts that, in 2014, 9.3 million people will still be in need within Syria; and that the number of external refugees will rise to 4.1 million, with a further 2.7 million in need in host communities.
General media queries
Follow the DFID Media office on Twitter - @DFID_Press
Published 15 January 2014