News story
Border Force cutters return from Mediterranean search and rescue operations
A homecoming ceremony has been held in Portsmouth to welcome back the crews of two Border Force cutters – HMC Protector and HMC Seeker – who have been conducting search and rescue operations in the Mediterranean since May.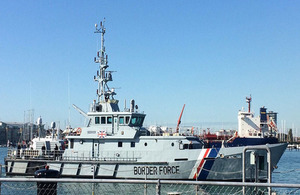 Minister for Syrian Refugees Richard Harrington MP and Border Force Director General Sir Charles Montgomery welcomed home the crews in the ceremony at Portsmouth's Royal Naval base on Friday, which was also attended by family and friends of officers.
Border Force has been working alongside the Royal Navy, the Royal Marines and other agencies as part of Operation Triton, led by Frontex, the EU's external border control agency.
During the five-month deployment, the two Border Force vessels were stationed at Catania, Sicily and Taranto, Italy. During this period Border Force officers have saved more than 1,650 lives and have intercepted 26 suspected people smugglers who have been handed to the authorities in Italy.
Speaking to the returning crews at the event Richard Harrington said:
This has been an important and extremely testing deployment for both cutters and their crews from the Border Force Maritime Command. The work that you have undertaken has been an important component of the international humanitarian response to the ongoing migration crisis. You should all take immense pride in your achievements.

Over 1,650 lives have been saved as a result of search and rescue operations taken by both cutters. And, importantly, the 26 suspected people smugglers that you have intercepted will support wider international law enforcement efforts to dismantle the criminal gangs that exploit those making these perilous journeys. These achievements which have come about as a result of your tenacity, determination and ability to do your duty in extremely harrowing circumstances reflect positively on the United Kingdom.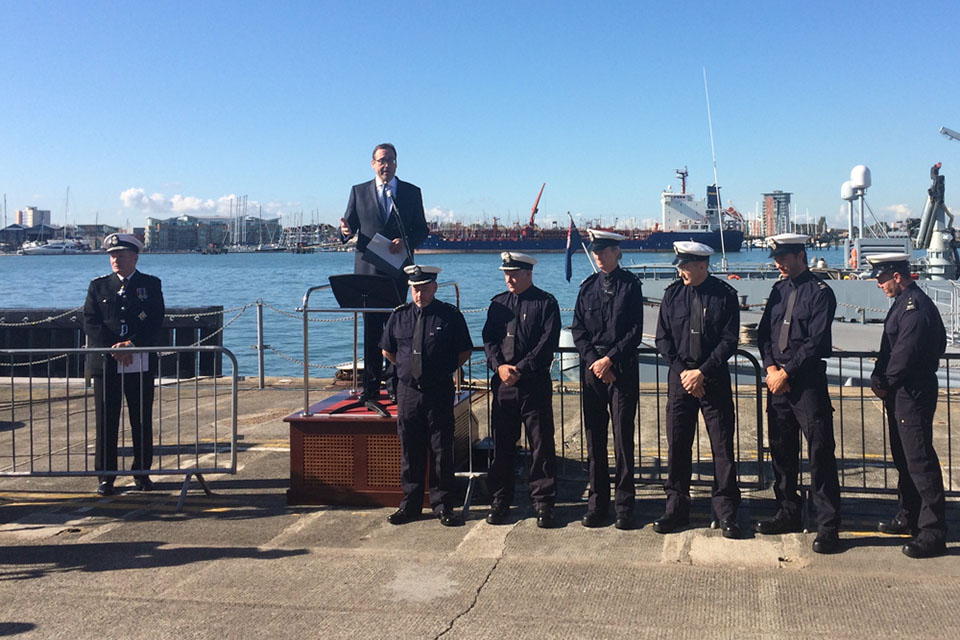 Sir Charles Montgomery, Director General of Border Force said:
The cutters play a key role in UK maritime security but have now also demonstrated their ability to contribute to wider maritime security and the humanitarian effort in Europe. Thank you for all that you have done and for all that you will keep doing.

The UK continues to play an important role in supporting search and rescue operations in the Mediterranean and in tackling the criminal gangs that are responsible for illegal attempts to move large numbers of migrants across the Mediterranean. A number of Border Force officers remain stationed in Greece assisting with the debriefing and screening of people arriving there.
Border Force operates a fleet of five cutters (Protector, Seeker, Searcher, Vigilant and Valiant) that can be deployed within 30 minutes and operates 24 hours a day 365 days of the year.
Published 13 October 2015