Press release
Boosting productivity in rural areas
A new Rural Planning Review will look to reduce regulatory burdens in support of new homes, jobs and innovation.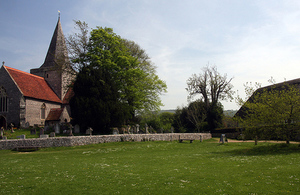 Rural entrepreneurs and housebuilders in England will have the opportunity to provide ideas on how the planning system can better support rural life, making it simpler for them to expand their businesses and to build much needed new homes.
The move comes as the government launches a planning review to reduce regulatory burdens in support of new homes, jobs and innovation. It will also review the rules for converting agricultural buildings to residential use, building on the success of the 2014 changes which have seen more than 2,000 agricultural buildings being allowed to be converted to much-needed homes.
The Rural Planning Review, jointly published by the Department for Communities and Local Government and the Department for the Environment, Food and Rural Affairs, is the latest milestone in the delivery of the Government's Rural Productivity Plan, launched last summer by Chancellor of the Exchequer, George Osborne, and Environment Secretary, Elizabeth Truss.
The plan sets out new measures to boost the rural economy by investing in education and skills, improving infrastructure and connectivity, and simplifying planning laws for rural businesses and communities. Already the Government is delivering on these objectives, designed to drive up productivity and ensure the countryside becomes an ever more attractive place for people to live, work, start a business and bring up a family.
Since the plan's launch the government is:
Commenting on progress under the Rural Productivity Plan, Environment Secretary Elizabeth Truss said:
Our rural areas have huge potential which is why we're working to further unlock productivity to create a true One Nation economy.

Our plan will help us create thriving towns and villages, where families can turn disused agricultural buildings into new homes for the next generation and entrepreneurs can launch the latest cutting-edge start-up from an office with a stunning countryside view.

I'm pleased with the progress we've made so far which will support rural businesses and improve connectivity, making it as easy to run a business in Shropshire as it is in Shoreditch.
Speaking about the Rural Planning Review: Call for Evidence, Communities Secretary Greg Clark, said:
This government is building the much needed new homes that we need to help hard working families own their own home.
The need for new homes doesn't stop where our cities end, it's just as real in rural towns and villages that need new housebuilding to keep thriving.
That's why we are looking carefully at how our planning reforms can deliver this whilst at the same time ensuring local people have more control over planning and the Green Belt continues to be protected.
Planning was one of the priorities for rural action included in the government's response to the Lord Cameron Review on Rural Proofing published in December, which sets out a series of measures to ensure government departments fully understand rural issues to better protect the services delivered for rural communities, as well as boosting productivity in the countryside. Defra and Cabinet Office have since agreed with Lord Cameron that the development of rural proofing guidance should be given priority.
Already there are half a million businesses operating in rural areas, and we are seeing net internal migration from urban to rural areas, including of highly skilled people attracted by the excellent quality of life on offer.
Notes to Editors
The Rural Planning Review: Call for Evidence is available here. Contributions are invited from businesses operating in rural areas, including farmers, local planning authorities and any other interested parties. The evidence on how the planning system is currently working in rural areas and the ideas on how it can be improved will inform further thinking on how planning can contribute to delivering the commitment to support rural productivity.

To have your say on the non-planning regulatory barriers to innovation for rural business please join our online dialogue. This is due to close on Friday 19 February.

For further information please contact Defra press office on 0207 238 6600 or DCLG press office on 0303 444 1201.
Published 11 February 2016