Press release
Billions worth of potential public contracts published
The government has updated its procurement pipelines to help businesses of all sizes bid for more public sector contracts.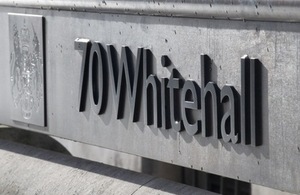 Future government business opportunities worth more than £177 billion have been published today (4 December 2013).
The government pipelines show upcoming public projects to give firms of all sizes the confidence and time to invest in the relevant skills, labour and capabilities to win contracts.
The 19 sectors in the latest update have been expanded to cover more industries than before. A new pipeline covering the science, technology and research sectors has been added. This includes projects for unmanned submarines and gene synthesis, increasing the diversity of business opportunity.
The construction sector alone accounts for almost £119 billion in future business opportunities, the largest value of proposed construction projects ever published.
Included in the construction pipeline are:
almost £4 billion of affordable home projects
more than £12 billion for education
more than £4 billion to enable the Highways Agency to resurface the vast majority of the national network by 2020 to 2021
specific long-term funding settlement for flood defences
Francis Maude, Minister for the Cabinet Office and Paymaster General, said:
We have a long-term growth plan that is stimulating the economy and creating opportunity for business. The government pipelines have proved a big hit with business since we launched them 2 years ago.

They are helping big and small suppliers plan ahead, invest and ultimately grow by successfully bidding for more public sector contracts. By creating a level playing field for UK-based businesses, the pipelines open the door to small firms and to new ideas for promoting competitiveness, providing maximum value for taxpayers.
The pipelines are updated every 6 months to provide suppliers with much earlier visibility of future opportunities within government.
Notes for editors
Government Construction Pipeline data is available in Excel format. The pipeline portal created and run by Barbour ABI at www.uk-cip.org.uk will be updated soon. An updated National Infrastructure Plan has been published and includes a comprehensive update of the pipeline.
The 19 pipelines are:
advertising and media
aid and international development
clinical and medical life sciences
construction
energy and utilities
financial services
fire services
ICT
office solutions
police services and equipment
print and print management
probation and offender services
professional services
property and facilities management (FM)
travel
vehicles
waste management
Welfare to Work
science, technology and research (new pipeline)
Pipelines were first launched on 21 November 2011, as part of a package of measures to further reform public procurement to support growth. The measures focused on taking a more strategic approach to the way the public sector buys public goods, works and services so that it better develops and manages its supply markets, and helps market to better prepare and cater for future needs, by ensuring that the right capabilities are in place.
The pipelines are updated at least every 6 months and include a confidence rating against each project so industry can assess the likelihood of a project going ahead.
The government's economic policy objective is to achieve 'strong, sustainable and balanced growth that is more evenly shared across the country and between industries.' It set 4 ambitions in the Plan for growth, published at Budget 2011:
to create the most competitive tax system in the G20
to make the UK the best place in Europe to start, finance and grow a business
to encourage investment and exports as a route to a more balanced economy
to create a more educated workforce that is the most flexible in Europe
In addition to building schools for the future continuation projects, priority school building programme and basic need, maintenance and devolved formula capital funding and the SR13 settlement, Department for Education pipeline information now includes more than £3 billion of capital funding allocations as set out at March 2013 and further capital spend identified in 'Investing in Britain's Future' (June 2013).
The pipelines, together with the National Infrastructure Plan, should not be seen as an absolute commitment for projects to proceed but used as a strategic planning tool.
Un-manned submarines/submersibles are used in the science of oceanographics, to collect data and observations. UK plays a leading role in oceanographics, and towed or independent submersibles are an essential tool in data gathering. Gene synthesis is an increasingly important aspect of medical science, in which UK has some important and leading suppliers. Gene synthesis is an artificially created gene.
The new Digital services framework awarded in November is an example of a pipeline opportunity that has been awarded recently. It has 183 suppliers, 84% are SMEs and more than a third are new to government procurement.
Published 4 December 2013