News story
Bigger role for women leads to better results for business
Women's Business Council publishes 6 months on findings and guide for employers.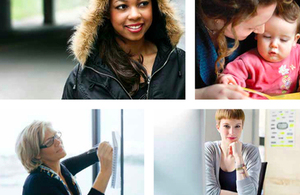 Business leaders must work to ensure the barriers to female success and aspiration disappear, that's the message from the Women's Business Council (WBC) who published its 6 months on review today.
Set up in 2012, the WBC advises business and government on what can be done to make sure women are not held back and get the same opportunities in their careers as men. The Council has been engaging with business sectors to discuss innovative solutions, promote best practices and offer advice.
Today the WBC published a new booklet of inspiring case studies that clearly demonstrate the business benefits of a diverse workforce.
Chair of the WBC, Ruby McGregor-Smith said:
Now is the time for business leaders across the country to set the pace of change. If we want to improve the UK's competitiveness in a global economy we need to be nurturing and applying the talents of everyone.
Also published today is a guide to help employers enable their staff to fulfil their potential. The booklet offers steps to raise the aspirations of young women, develop the talent of staff at all levels within their organisations and improve opportunities for women at all stages of their careers.
This review builds on the government's action plan to improve opportunities for women and calls on business to adopt the recommendations made by the WBC because of the overwhelming business case for doing so.
Minister for Women and Equalities Maria Miller said:
Confronting barriers in the workplace that hold women back is simply good business sense.
The government is committed to tackling this issue and is playing its part by introducing flexible working, shared parental leave, and helping with childcare costs, but what is needed is a culture shift. That is why we want to support and encourage employers to put the right measures in place to create more inclusive work places, nurture talent and be more transparent about pay.
Further information
Published 16 December 2013