Big business urged to pass on prompt payments to SMEs
The Minister for the Cabinet Office, Francis Maude, today renewed the government's pledge to increase support for Britain's small and medium sized enterprises. (SMEs)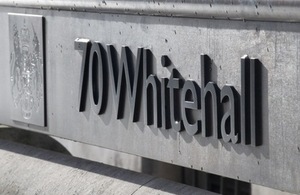 The Minister for the Cabinet Office, Francis Maude, today renewed the government's pledge to increase support for Britain's small and medium sized enterprises (SMEs) by calling on big business to follow the government's lead and pay their bills promptly.
He made the call at today's Innovation Launch Pad Product Surgery, a special event organised to enable some of Britain's most innovative and pioneering SMEs to pitch their ideas direct to government buyers.
Nine trailblazing SMEs were chosen for the event - the culmination of a process involving over 2000 civil servants voting on ideas submitted by 350 SMEs.
Francis Maude said:
Prompt payment is crucial to smaller companies. The government has an excellent record on paying our bills quickly and we expect our suppliers to do the same and pay sub-contractors well within the 30 day limit. When work has been done, especially by an SME, it is just inexcusable not to pay up quickly for that service.

We will be keeping a close eye on how the big suppliers choose to pay their sub-contractors and we won't shy away from naming and shaming those that we find have failed to pay promptly.
The minister set out measures for monitoring prompt payment, including: 
departments will monitor prime contractors performance as part of their contract management processes
SMEs will be encouraged to use the 'Mystery Shopper' service to report to government instances where payment is slipping – view Mystery Shopper results

the Crown Representatives team, who coordinate the government's approach to the management of key suppliers across all departments, will strongly encourage prime contractors to pay more quickly than 30 days
Today's event builds on the radical package of measures set out earlier in the year, since February:
14 government departments have eradicated the burdensome Pre-Qualification Questionnaire process from low value tenders.
the Contracts Finder website has received over a million page views and has over 16,000 registered users
to date, 600 contracts worth over £80 million have been awarded to SMEs
Notes to editors
The Coalition Programme for Government stated: We will promote small business procurement, in particular by introducing an aspiration that 25% of government contracts should be awarded to small and medium-sized businesses.
Progress made to date on enabling more SMEs to tender for government procurements - First quarterly report
The Crown Representative network, including the SME CR, has been operational since April 2011.
Stephen Allott joined the Cabinet Office as a Crown Representative for SMEs. He has chaired the boards of 7 different technology SMEs and led the successful growth of one SME from 50 to over 800 people. He has also been heavily involved in proving management consultancy to SMEs, founded the 'Cambridge Computer Lab Ring and is a judge on the software and internet track for the Cambridge University Entrepreneurs Business Plan competition.  Stephen is a graduate of Cambridge University and a regular speaker on the growth of technology SMEs in particular.
The Mystery Shopper service can be used if a supplier sees a tender they do not understand or a specification that they think is gold plated, and Cabinet Office will raise the issue with the contracting authority concerned, anonymously if necessary.
The 9 SMEs selected for the Innovation Launch Pad Product Surgery are:
Adinfa – a proposal to help government to cut costs, cut carbon emissions and optimise operating efficiencies across its estate of data centres by monitoring and managing energy consumption in real-time
Becrypt – to provide highly secure, low cost, mobile access from any unmanaged, internet enabled PC/laptop/thin client.  This enables people to work from home or remotely, using their own equipment without compromising data security
Cambridge Temperature Concepts – the NHS spends £20m per year on IVF for the patient group that this service addresses, and achieves 800 pregnancies as a result.  Using this service immediately before IVF, a total saving of £2M is made whilst increasing pregnancies by 640, resulting in a cost-per-pregnancy reduction of 50%
Cat N Hosting – a proposal to migrate government websites to open source frameworks and save a significant proportion of the £24 million spent per year on infrastructure and hosting
Health Analytics – a platform for clinicians and patients to access integrated NHS and social care records, enabling Health and Well-being boards to make informed decisions across health and social care, enabling huge savings from effective and joined up preventative care
HotDocs – a software tool to standardise and automate the production of routine documentation and forms
Learning Pool – an e-learning training system for local government that has saved over £30 million for public sector customers over the last 3 years
MyWorkSearch – an online system offering a suite of services to help job seekers find employment
Software Europe limited – a service that automates clerical systems for claiming and processing travel and related expense within the public sector delivering savings of around 15%