Better choices, better deals
A radical new approach to give more power to consumers in their relationships with business.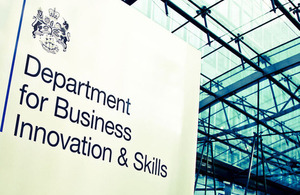 Consumer Minister Edward Davey has announced today new plans on how businesses will provide key information to their customers on how they use and buy goods and services.
This will help people get the best deal possible, and make business more dynamic in response.
The new approach is published in Better Choices, Better Deals: Consumers Powering Growth and marks a shift away from legislating to make change happen. Instead it announces new ways to help consumers help themselves and challenges business to innovate, which in turn will drive growth in the economy.
Midata
Part of the initiative published today will be a project called midata, which will assess how to give people their personal data in a format that is safe to pass onto third parties, such as price comparison sites.
If an application or website can pick out the one perfect deal based on your user information, this will help to make consumer choices simpler.
Edward Davey said:
"This is an important new initiative that will radically change how consumers relate to business. By giving you more power in your relationship with businesses you will be better placed to get the deal you want, and that deal may put a bit of money back in your pocket.
"This will in turn reward the most competitive and innovative businesses."
What people are saying about 'Better Choices: Better Deals'
**Professor Nigel Shadbolt, Chair of Midata: **
"Information about how we shop, travel, communicate and live our lives is a powerful source of insight, so it's important that each of us should be able to access our own data.
"I am very much looking forward to chairing the mydata group, which aims to make accessing this data much simpler, and should be a watershed on how we use data to get a better deal every day."
**Gillian Guy, Citizens Advice Chief Executive: **
"Citizens Advice is an active champion for consumers. We help people get a better deal and make it simpler and easier to get information and advice.
So we are thrilled to be part of this new consumer empowerment strategy alongside Citizens Advice Scotland and Consumer Focus.
"In particular we are really pleased to see recognition that in new technology is not good news for everyone. Some vulnerable groups can be excluded from best value deals and methods of redress.
"Our experience helping over 2 million clients a year shows that consumers have many varied needs. We look forward to helping ensure that provision for consumers really is inclusive and services and products are equally available to all."
Christine Farnish, Chair of Consumer Focus, said:
'It's good news that government is looking at how more powerful consumers can create more effective markets and public services. While there are companies who want to provide better value and service, the truth is that if you don't have demanding consumers, then you won't have responsive markets.
"A challenge for the government strategy is how it removes the barriers and opens the field for consumers to take action. This also needs to go hand in hand with making the most effective use of regulation and tackling the wider problems exhibited by consumer markets.
"Since its creation Consumer Focus has campaigned for better customer information and complaints handling. Increasingly we have been pushing new ways to unlock the ability of consumers to band together and either discipline poor companies or reward good ones. The opportunity for coordinated consumer action through online and social media is growing all the time.
"The success of this approach will depend on whether it really helps consumers to mobilise their market power by coming together and showing companies the benefits of providing the value and customer service that people want."
**Richard Thaler, co-author of Nudge: Improving Decisions About Health, Wealth, and Happiness:
**
"This is a very exciting initiative that shows how modern technology can create entirely new ways of thinking about the government's role in business regulation.
"It is of course true that we cannot replace all laws and regulations with nudges. However, this approach will give honest, high quality firms an edge in their battle with competitors who use obfuscation as their chief marketing strategy.
"Simple electronic disclosure is not costly for large firms to provide, and can provide enormous benefits to consumers. Eventually, this approach has the potential for replacing much more intrusive and burdensome regulations that firms inevitably find ways to evade."
Ed Mayo, Secretary General of Co-operatives UK:
"We welcome the growing interest in collective purchasing, from both government and from consumers. We are pleased to be working with BIS to launch the Innovation Prize. The best way to empower consumers is to enable them to come together co-operatively."
Chris Wermann, Director of Corporate Affairs - Home Retail Group, Argos:
"Argos always puts the customer first. Being at the forefront of multi-channel retailing in the UK we believe any successful retailer will need to evolve their product range, services and accessibility to ensure the customers get the best choice and value most suited to their needs.
"The Government's consumer empowerment programme is a great way to enable this to happen."
David Chan, CEO, Barclaycard Consumer Europe:
"Barclaycard believes that digital technology - through simple online tools such as mybarclaycard, its award winning online servicing site which enables customers to analyse their spending, has the potential to really empower consumers.
"Just imagine if people could easily access and review all their financial transaction data from all their banks, in one place, using simple web-based tools. We believe that could make a real difference to people, and that's why we support mydata."
Links
Published 13 April 2011
Last updated 3 January 2013
+ show all updates
Added third link.

This news article was converted to a news story